Was that a Nascar Race or Just a Great Cause?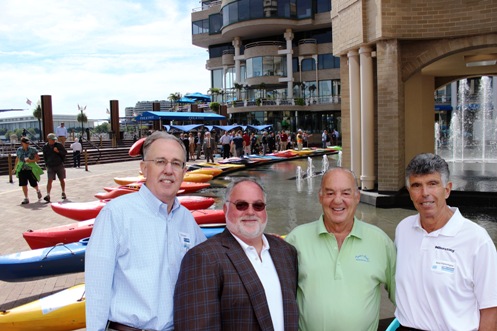 At first glance, with all the color, smiles and energy, Washington Harbour resembled the starting line of the Daytona 500, but upon closer examination it turned out to be even better as over 40 kayaks of various colors lined up around the new fountain at the Georgetown waterfront. The event was the "Team River Runner Biathlon Thank You Luncheon" hosted by Clark Construction at Tony and Joe's. Over 40 sponsor companies attended the luncheon.
"This is a great way to use our newly remodeled space, by providing opportunity to America's service members and veterans," remarked Tony Cibel, owner of Tony and Joe's Seafood Place. Operations manager, Greg Casten added, "It's the perfect opportunity to support our vets and an organization that delivers fun to those who sacrificed so much for us all. Any time you combine a good cause, canoes, the riverfront, great seafood and a sensational view- you've got a winner." Tony and Joe's dining room has just recently re-opened after the flood of April 2011 wiped out Washington Harbour.
Today's event marked the official kick-off promoting the 8th Annual Team River Runner Biathlon that takes place on the Georgetown Waterfront this Sunday, September 23rd.
Registration begins at 7:00 am at the Washington Canoe Club. The race includes one mile of paddling and three miles of running. Complete both legs (kayak and run) as a single racer, or complete one leg as part of a "racing pair."
Most of the kayakers attending today's event were active duty servicemembers and veterans severely wounded in Iraq or Afghanistan. Several of the participating biathletes showed up in wheelchairs, a few fitted with a prosthesis and another using the aid of a canine companion.
Many local construction companies and members of the Mechanical Contractors Association of Metro Washington came out to support the biathletes. "We envisioned it looking like Nascar, " Volunteer George Sheldon laughed as he pointed out the sponsor names adorning the colorful kayaks. Clark Construction Company's COO Hal Roach and Miller and Long's President Nick Paleologos joined the sponsors and team runners to support the fundraising effort. This year's goal is to raise $40 thousand.
Team River Runner benefits soldiers, sailors and marines being treated at the Walter Reed Army Medical Center in Washington, D.C. Today, TRR operates chapters throughout the country coordinating with clinical staff at DOD and the Department of Veteran Affairs Medical Centers and depends solely on private donations from individuals, businesses and non-profit organizations.
For more information, visit Team River Runner or contact Janice Ockershausen at 202.342.0002
Written by Janice Ockershausen, owner of Best Bark Media