Warmth of Spain sizzles at Adolfo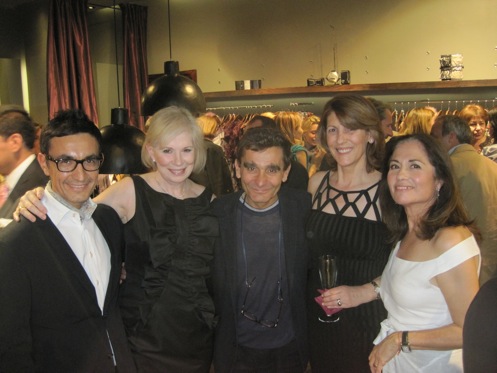 Wrinkles are Beautiful. It sounds catchy. A noble idea. But does anyone really believe it?
At 5:00 in Chevy Chase, an excited stillness has set in at Adolfo Dominguez, the chic and comfortable boutique a few steps away from Bloomingdale's at Wisconsin Place. Cava corks are popped. A stunningly simple wedding dress poses in the corner -- probably far too simple and elegant (sigh!) for an upcoming royal affair. Still, expectations weigh heavy in the air.Heather Previn, the most elegant woman in America, wearing a short, black edition similar to the aforementioned wedding confection, is sporting a new haircut and killer eye make-up. She did it herself. (She did it herself?) At this moment, she is the most beautiful woman you could meet. Greeting each guest with her sincere, regal charm, you want to be in her presence. We love the Queen of England for her good, steady hand on the realm. But wait til you meet Heather. Suddenly, a red flash. In walks Tiziana Dominguez, heiress apparent to the Adolfo Dominguez dynasty. At 25, her hair quickly pulled up in a little bird's nest --who is she?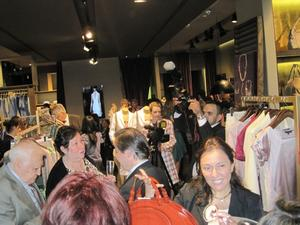 You haven't heard? Adolfo Dominguez is the hottest European label taking over the globe. It's not just a brand, it's a way of thinking, a way of life. Wrinkles are beautiful. Embrace nature and art. Can this philosophy hold its own in a PDA-dominated, texting world?
Judging from the unusual gathering in this special corner of Chevy Chase, the answer might be "yes."
Fans start arriving. Then squeezing in. They are sophisticated Europeans, they are suburban moms in sweats. They are dog lovers. Suddenly, over a hundred are in the shop. Why are they here? The crowd stirs as Adolfo himself, who took the helm of the family tailoring shop when his father died suddenly at 50, is visiting from the company headquarters in Galicia, Spain. He and the extended "family" are offering a fashion ethic and way of life that calls your attention. Eco-friendly, embracing nature and art, full of spirit that wraps your soul -- this is Adolfo.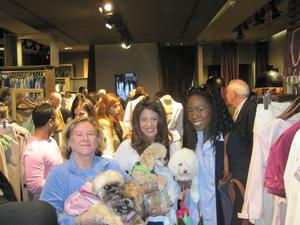 There are no furs here, no exotic skins, no leather in the garments. But there is soul and spirit -- and great design. On this night, the partners helming this Washington, D.C. enterprise --Julia Perez, Javier Vargas, Teresa Melchior and Heather Previn -- open their doors to their many friends and "family." But it is just the beginning. The poignant story of this family business -- which has offered great design to the world and opportunity to the Washington partners and thousands of others -- has just begun to be told.Next: Interview with Tiziana Dominguez, U.S.-educated creative director of Adolfo Dominguez.