Walk of Shame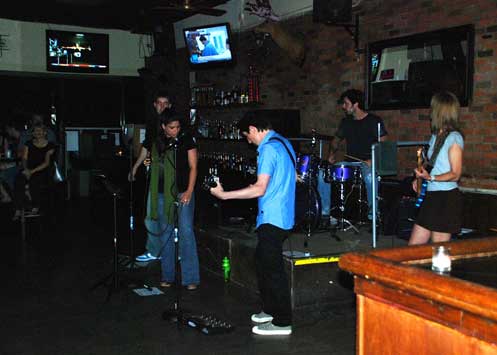 Friday Glover Park's Gin and Tonic hosted cover band,
Image

Walk of Shame. Beneath the stuffed deer head and sports trophies, the Washington D.C./Virginia group: drummer Jay Scott, guitar/vocals Jeff Dufour, Suzanne Zweizig on the bass, Ben Meier on guitar and Kina Wihl with lead vocals, played an intimate show. Their set included a diverse playlist ranging from Guns N' Roses' "Knocking on Heaven's Door" to Blur's "Song 2." The cozy size of Gin and Tonic made the performance very personal allowing a father daughter dance that charmed the audience.
When asked the origin of their name, Walk of Shame, I was met with laughs and a little blushing from Scott and Dufour. They both claim that there is no one particular story that got them their name but it is more of a metaphor describing their musical "walk" as a band. Things picked up with Dufour lending his vocals to The Doors' "Gloria." the music got the crowd moving way beyond a walk.