Vinyasa Flow Here I Come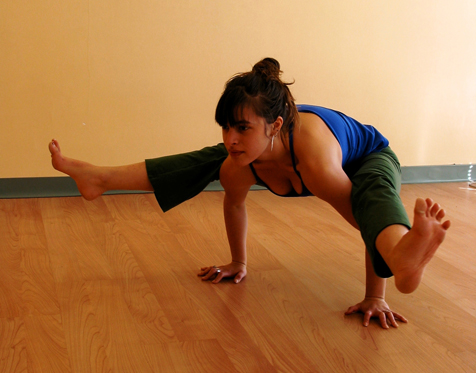 By the time you finish this article, I will have rolled up my new yoga mat (I always start with the accessories) and be headed to my first yoga class. I'd really like to count that Pilates class I took three years ago as my first one because as I expect yoga to be, it was a lot harder than it looked, required a mat, and was a painful reminder that I was once extremely limber.
No more excuses. It's DC Yoga Week, the perfect time to explore the wide variety of types and classes right here in Georgetown.
Image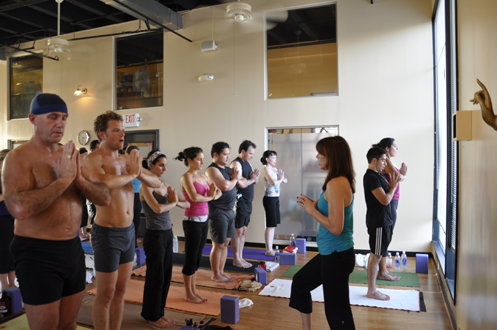 Patty Ivey teaches a class. Photo courtesy of Down Dog Yoga
Down Dog Yoga studio was voted "Best of D.C." in 2009. Started by Patty Ivey in 2003 (she now has three studios in the DC area), this former runner with injuries found that heated power yoga transformed her life. Why that particular style, I asked Patty? "I love the physicality … it offers the body an opportunity to gain a higher place of confidence … In the same way that building the muscles in your legs results in a sure-footedness of being."
Image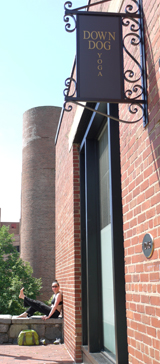 Jennifer Schneider (at left) relaxes after a class at Down Dog Yoga.
Designed for every age and level of experience, Down Dog's heated Vinyasa Flow uses a dynamic combination of strength, sweat and spirituality. "Twist, open, lunge, reach, balance, stretch, and gasp. When you finally rest you will savor the victory, knowing that today's progress has taken you further down the road to good health by helping you change the way you live, work, play, and think."
Spiral Flight Yoga, Georgetown's oldest Yoga studio, founded in 1997, has been owned since last year by Michelle Keel, an Alabama native who had been teaching yoga in Vail, Colorado for 15 years, before coming to Georgetown.
Image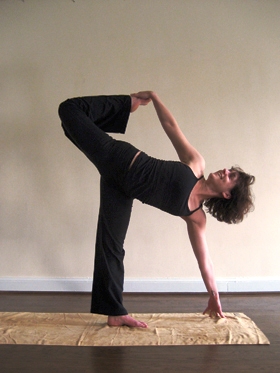 In addition to an eclectic mix of classes including Anusara-Inspired (a relatively new form of hatha yoga pairing strict principles of alignment with "flowing with Grace"), Vinyasa Flow, and Gentle Yoga, Spiral Flight Yoga offers healing and wellness therapies, workshops, and teacher training to help reduce stress, gain strength and flexibility, increase vitality, and improve body alignment and mental clarity. Photo of Tara Lemerise by Sarah Canadine-Bayne.
Resident acupuncturist, Bronwyn D. Clark (pictured below) had a chance to demonstrate the power of a well-placed needle on Michelle's "third point on her liver pathway"(between her first and second toe) … to help relieve a persistent vortex headache, one of many effects of a recent car accident.
Image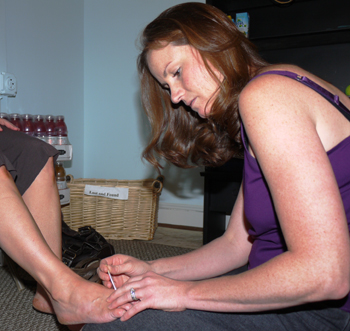 SomaFit is a modern day spa and fitness center that includes a "Resort Spa in the City" with nine treatment rooms, quiet lounges, showers, saunas and steam. On the fitness side, they offer personal training, Pilates and group yoga classes. Spa Director Brooke Adams explained the three types of yoga they offer: Kundalini (using breathwork, awakens the energy at the base of the spine and draws it upward), Ashtanga and Restorative Yoga (gentle, therapeutic form allowing muscles to relax), as well as several new introductory classes.
Lululemon, the wonderful Canadian athletic wear company with the reversible straight Groove Pant, my wardrobe mainstay, also holds free yoga classes upstairs and weather permitting, outside. Their stated mission of "creating components for people to live a longer, healthier, more fun life" includes, as Georgetown store manager, Mara Frisch told me, "supporting local studios by selecting a different one each month to teach classes." When I visited, Josh Courage, who runs his own personal training company, was taking his class on a power walk to the C & O Canal for some high intensity stretching.
Image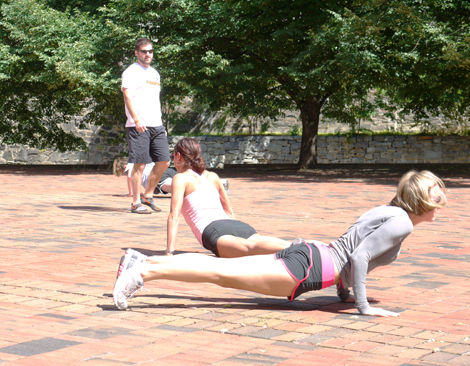 Breathe, stretch, balance, lunch.