View From a New Georgetown Bridge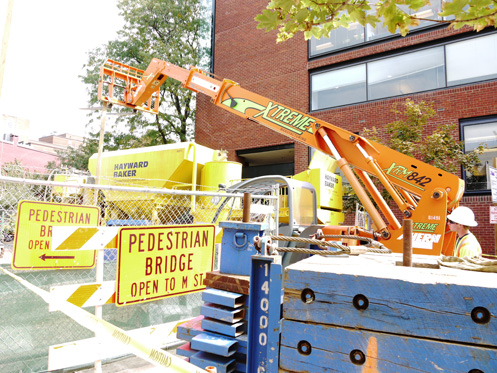 The new Thomas Jefferson Street Bridge is an open wound of dirt, planks and heavy equipment sprawling out over the C&O Canal just south of M Street. While the construction signals good things for the future -- a secure, attractive new bridge, the scene is disconcerting when so many local businesses have been hit by a deep recession. With revenues down 50% since August, manager Salah Habrani of Snap Cafe says "there's lots of noise" from the construction project. Open from 11 am -11 pm every day, Habrani welcomes the neighbors to stop in for crepes, smoothies and their popular bubble tea made with tapioca. It's been tough.Adriana Ploeg, manager of Baked & Wired, an Internet cafe, offers a rosier verdict. "We were afraid it was going to slow things down a lot, but it hasn't. Especially weekends when there are tons of tourists in town." And the noise? "Well the noise is a little annoying," she says.
For international architecture and engineering firm, Burt Hill, in a corner building with offices on the second floor and along the canal, it's had very little impact. "We're very happy that the bridge is being renovated," architect David Capelli told the Dish. " The sidewalk used to be a disaster." The only disruption for this engineering-minded neighbor, "I watch the construction all the time."
Part of a three year-three bridge project to replace bridges built in 1920, 30th Street has been completed, Thomas Jefferson Street is underway, and 29th Street will begin next summer. "Work has been progressing ahead of schedule to complete the new bridge in less than a year," says DDOT spokesman, Mark Clabaugh. "We expect to have the concrete deck on the bridge before winter sets in." In the meantime, no parking is permitted on the entire west side of the street, north or south of the bridge.
Pile load testing conducted last week was a success. Using a hydraulic jack placed atop a test frame of four piles proved that the piles have the capacity to hold up the bridge. "The bedrock of the three bridges is shaped like a 'V', says Mike Gales, on-site DDOT engineer, "and the piles needed for Thomas Jefferson Street are only 30 feet, compared to 65-70 feet for 30th Street." While the Thomas Jefferson Street Bridge is closed, two-way traffic is permitted between M Street and the bridge, and between K Street and the bridge.
For more information, please contact Mark Clabaugh of DDOT at 202.671.4566 or mark.clabaugh@dc.gov.