'A View From the Bridge' at The Kennedy Center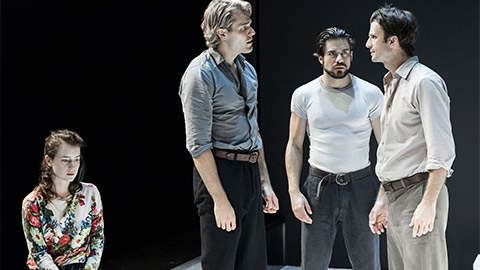 Internationally renowned Belgian director Ivo van Hove stages a limited engagement of Arthur Miller's masterwork, A View From the Bridge, winner of two 2016 Tony Awards including Best Director and Best Revival of a Play. Join tragic protagonist Eddie Carbone in this dark and passionate tale of family, love, and duplicity. The limited engagement is from November 18 through December 3, 2016.
In association with Center Theatre Group in Los Angeles, the Kennedy Center presents the Young Vic's two-time 2016 Tony Award–winning production of Arthur Miller's A View From the Bridge, coming to the Center direct from the Los Angeles engagement. The play is helmed by internationally renowned Belgian visionary Ivo van Hove, whose lauded production of Antigone graced the Eisenhower Theater in the fall of 2015.
Following its hit run on Broadway, this dark and passionate tale of family, love, and duplicity explores 1950s America in a small Italian-American Brooklyn neighborhood. Longshoreman Eddie Carbone is obsessed with his 17-year-old niece Catherine. When she falls in love with a newly arrived immigrant, Eddie spirals into a jealous rage that consumes him, his family, and his world.
The New York Times exclaims, "A View From the Bridge must be what Greek tragedy once felt like, when people went to the theater in search of catharsis…. You also feel ridiculously blessed to have been a witness."
For more information and tickets, click here.