Valentine Lingerie Soiree at L2 Lounge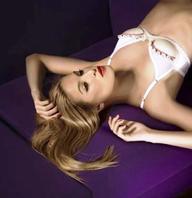 Special cocktails, sweet treats and lingerie ... It's a Valentine Soiree hosted by Lunaventi at L2 Lounge on Thursday, February 9th starting at 7:00 pm.
Two collections from Buenos Aires will be showcased: Jane Pain and Alicia Fuhr. With Italian satin and Columbian lace, these luxury labels turn lingerie into works of art.
Available in the U.S. exclusively through Lunaventi, just in time for Valentine's Day.
For more information, email info@ lunaventi.com.
L2 Lounge is at 3315 Cady's Alley.