U.S. Attorney addresses ANC after Halloween violence in Georgetown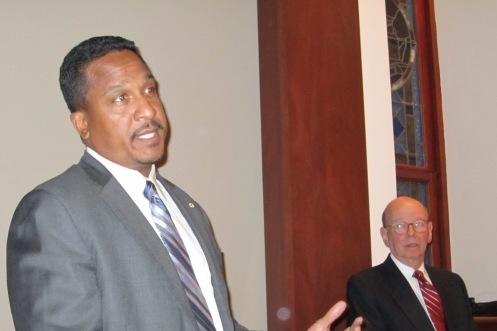 Despite the usual very heavy Metropolitan Police Department (MPD) deployment for Halloween, unruly groups of teenagers were seen shoving pedestrians on the main thoroughfares of M Street and Wisconsin Avenue, as well as on the residential side streets.
Overshadowing these incidents was the shooting of a 17-year-old from southeast on M Street between 28th and 29th Street, one of six District shootings Monday night.
Into this crime-heavy atmosphere, Ronald C. Machen Jr. , the U.S. Attorney for the District, paid a call on the Georgetown Advisory Neighborhood Commission 2E during a regularly scheduled meeting.
After pointing out that he lives nearby within the MPD 2D District and that his kids go to public school, Machen stressed that effective law enforcement depends on public cooperation, especially for witnesses to come forward. His office is "not afraid to be very, very severe in requesting [long] sentences" for violent crimes, including prosecuting teenagers as adults if the charges warrant.
However, Machen also pointed out that we "can't arrest our way out of the problem … that somehow you have to get through to these kids" that there are consequences for their actions as well as deal with the socioeconomic problems they face.