Urban Chic: Harper on 14th Street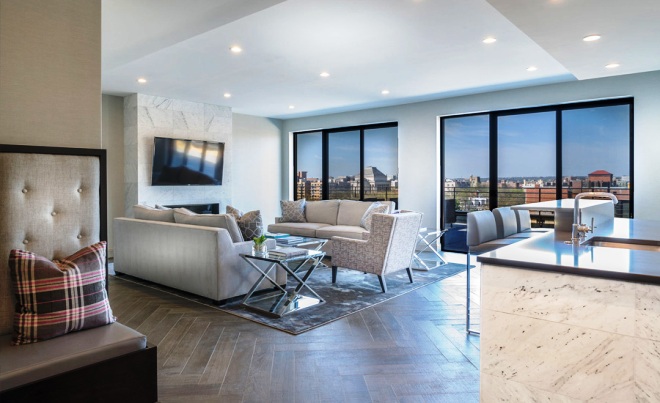 I'm always amazed when walking 14th Street, NW, to see the ever changing landscape. It represents total gentrification with its good and its bad depending on the point of view of the beholder. But since urban renewal won't be stopped, the idea is to hopefully direct it in a good way. I think urban chic at its finest is represented in the The Harper, the recently opened rental building at 1919 14th Street, NW.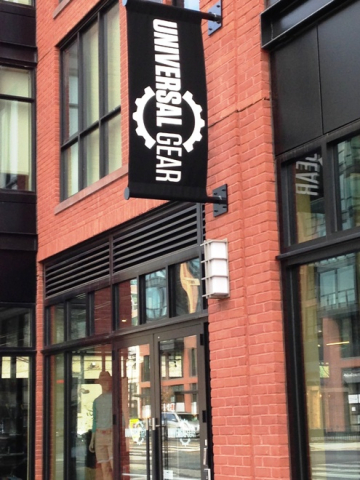 My connection to The Harper is tenuous but I do know and respect the people involved in bringing this exciting new project to fruition. One of them is David Franco of Level 2 Development, a D.C. native who partnered with Keener/Squire Properties on this project. David is also the owner of Universal Gear, which had its formal grand opening last week; the popular clothing store with branches in New York now occupies the street level of the development.
Another person helping to bring this project to the market is one of my best friends Randy Overbaugh who works for Keener/Squire Properties and is also the rental agent for The Harper. I first met Randy in the early 80s when he came to D.C. and was assistant manager at Waterside Towers, next to Arena Stage, in SW. After a great Easter Sunday brunch at another new place on 14th street, Ted's Bulletin, Randy was proud to show off The Harper.
I heard about it from friends who talked about the apartments being on the small side but added the layouts made them feel really comfortable. Also the great amenities in the building were a real draw. Word of mouth was right. The apartments are a little on the small side but you can clearly see how great it would be to live there with lots of light and fine finishes. Red oak floors, custom cherry cabinets, silestone countertops (I don't know what silestone is but it sure looks great), stainless steel appliances, washer/dryers in each apartment, large windows and mobile kitchen islands available.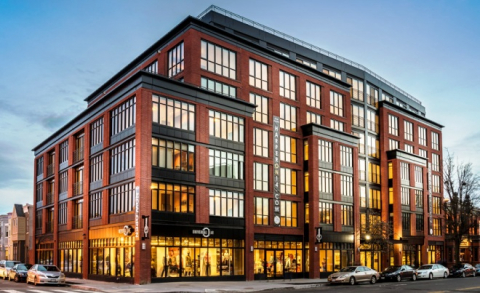 The Harper isn't for those looking to entertain large groups in their apartment. It is more for busy professionals who want a great looking place to live with all the modern amenities on one of the best streets in town. The new Trader Joe's is across the street. Plenty of restaurants, bars, café's and even theater all within a few blocks of the front door. There is a business center, a large roof deck with lounge chairs and fancy grills along with tables and chairs to dine out. The gym has great views over the city; a beautiful community room with bar and fireplace; and even a formal dining room that tenants can rent for the evening.
The dining room with incredible city views can seat up to 10 formally and has a full kitchen and bar. What a great place to invite friends for an exotic home cooked meal or have a caterer prepare dinner for some special occasion. Most of us don't use the dining room in our own apartment very often and this is a great idea allowing the space in the apartments to be used much more efficiently.
The Harper open for rental only a short time is nearly 50% rented and tenants have already moved in. It is definitely worth a look.