Upgrades to 'Gateways' Pitched in Georgetown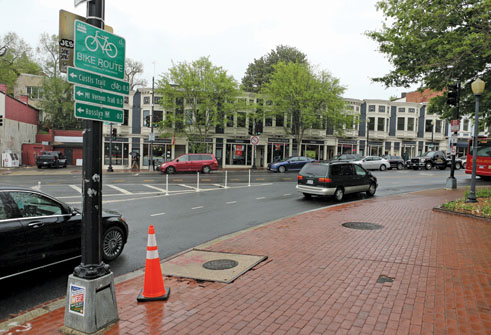 By Mark LiebermanCurrent Staff Writer
Five key "gateways" to Georgetown could see upgraded surroundings next year as part of the Georgetown Business Improvement District's ongoing effort to redesign areas that currently create underwhelming first impressions of the historic neighborhood.
The business group has hired design firm Beyer Blinder Belle — which has offices at 3307 M St. NW, in the center of the neighborhood — to develop concept designs for small-scale improvements to the neighborhood's primary "gateways." The firm's first step earlier this year was to identify those gateways, of which they found five: both M Street and Pennsylvania Avenue just west of the Rock Creek Parkway; K Street near its intersection with 29th Street; Wisconsin Avenue near R Street; and the Francis Scott Key Memorial Bridge.
The exact nature of the improvements will remain up in the air until the end of the year. Ideas floated at an April 5 community meeting ranged from flowers and decorations to seating and signage. The project will be modest and won't extend to redesigning street signs or other larger-scale work, according to the firm's associate partner Kevin Storm.
According to the business group's executive director Joe Sternlieb, the goal is to keep all efforts inexpensive and to seek government funding from agencies like the D.C. Commission on Arts and the Humanities if eventual designs are particularly appealing. Installations with high costs for ongoing maintenance won't be feasible, Sternlieb said at the meeting.
Now the design team is working on what the business group calls a "kit of parts" — a holistic array of enhancement ideas that can be applied in varying degrees to each of the five locations.
A few residents at the April 5 meeting pointed out that Georgetown doesn't currently lack spaces that could be defined as gateways, such as Book Hill Park behind the Georgetown Library. "The nature of 'gateway' in general in this neighborhood maybe requires a more subtle, nuanced project," Storm said.
Storm's group identified areas of possible improvement at each of the five locations, though. A park near the Key Bridge is disconnected from its surroundings, and vehicular congestion converges with pedestrians for an unholy mix of frustration. On Wisconsin, high walls nearby could be a launchpad for public artwork. The convergence of Pennsylvania Avenue and M Street could lend itself to a more pronounced design greeting westbound traffic. Blank stone walls and the drab structure of the Whitehurst Freeway above K Street could be spruced up.
Though most residents at the meeting appeared supportive of the initiative, a few cautioned against doing too much to meddle with the neighborhood's existing character, or tackling each gateway in the same manner. One resident pointed to the Dumbarton Bridge on Q Street as an example of a gateway-like landmark that already exists.
This article appears in the April 19 issue of The Georgetown Current newspaper.