Update on Effort to Repair Streetlights in Georgetown and Citywide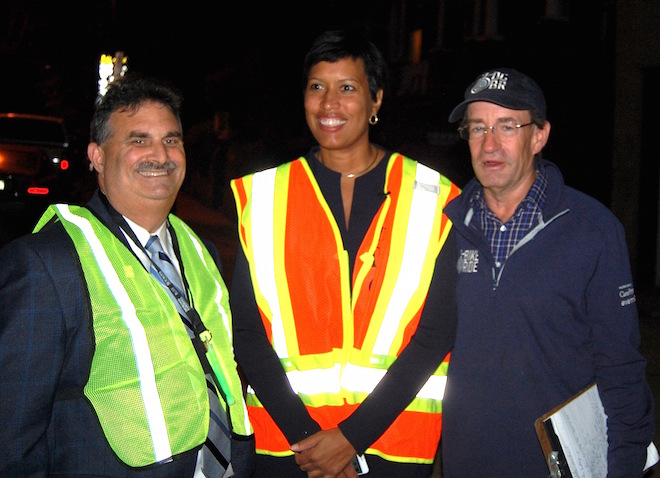 Written by Bill Starrels, Commissioner, Vice Chairman ANC2E, Georgetown It remains an on-going problem in Georgetown and citywide that too many streetlights are simply not working.
In response to calls to address this issue following recent sexual assaults in Georgetown at locations where streetlights were out, Mayor Muriel Bowser called for a week-long sweep by government staff across the city to identify streetlights that are out and that need repair. She noted that all sections of the city have streetlights that need attention, and expressed concern about the associated safety and crime issues.
The mayor announced the launch of text to DC311 (32311) making it easier for residents to report streetlights that are out and need to be repaired. Residents can also call 311 to report streetlights that need repair. To ensure prompt service, Bowser announced the hiring of an additional thirty-one call center staff.
On Wednesday evening, Terry Lynch of the Downtown Cluster of Congregations, was able to survey part of the East Village prior to the rains coming in. Over a dozen streetlights were found to be out - 15 in all, along with a light in front of the Georgetown Post Office. His list is below. These are being reported to 311 for repair.
The mayor also has called for reviewing and updating the system as a whole, to use the technologies now available so that when a streetlight goes out city managers know immediately and can speed repairs. There are over 70,000 streetlights citywide. An updated system will help with the maintenance of the streetlights and could also be more energy efficient.
The prompt response by the mayor and supporting agencies is encouraging in the quest to get the streetlights back on and improve the safety of the city.
Georgetown streetlights out:
2500 Q Street NW - light on bridge entering Georgetown area, south side of bridge towards Georgetown
1245 29th Street NW
2 out at 30th and M Streets NW - se and sw corners
31st and M Streets NW on 31st at side of Potomac Wines - on and off
31st and M Streets NW, in front of Brooks Brothers store (on and off)
31st and M Streets NW, on 31st at side of The Walking Company
3111 M Street NW - by Urban Outfitters
3122 M Street NW
3140 M Street NW
3150 M STreet NW
1208 Wisconsin Ave NW by Abercrombie & Fitch store
3141 N Street NW
On 31st at Dumbarton, sw corner
3114 Dumbarton
US Post Office - 1 of entry lights at 1215 31st Street NW - comparable to a streetlight for that block