Unplugged in Bermuda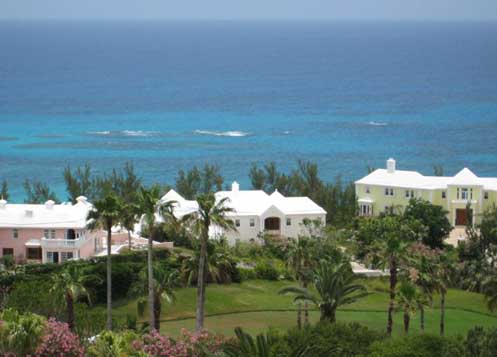 My spouse and I recently got away for a few days to Bermuda where, in addition to the spectacular surroundings, we found an added perk: a technology and news blackout. Not a literal blackout, but my cell phone didn't get service and there was wi-fi only in the lobby area. I used my iPad or iPod only when I passed through on the way to the beach, pool or dinner and soon that became a drag. My husband had more options – a working cell phone and a laptop that connected to the in-room internet, but he never turned either of them on.
Further, there was no USA Today at our door each morning. "Newspaper" coverage consisted of a photocopied print-out of a few current British news stories and international headlines.
We could have tried a little harder to get the news, but the TV in the room was tiny and the island was so beautiful that we much preferred to enjoy all that it had to offer rather than checking voice mail or email or catching up on the TV news. In the bars and restaurants everyone seemed to watching some sporting event that involved Barcelona. After the first day we didn't miss any of it and in fact it was really nice to avoid the feeling that there was a call or email I needed to return. I didn't miss hearing about a certain French IMF president's travails, weather disasters or infanticide by parents. Neither did the siren call of celebrity crack-ups, divorces or drunken binges drive me to investigate the sordid details.
It did take a little creativity to work around our instant message style habits. For example, when my husband headed to the beach after an early morning of golf he realized he had no way to let me know where he was so I could meet him later. When he eventually located a hotel phone and left me a voice mail in the room, but it didn't occur to me to check for messages until I finally noticed the blinking light and figured out the hotel's voicemail system. After that we resorted to writing notes (so old-fashioned!)
In Washington both of us daily compose and return scores of emails and texts and checking multiple voice mail accounts not to mention keeping pace with various list serves, news outlets, Facebook, etc. Not all of these communications and interfaces are productive and most are definitely not urgent and yet I often feel compelled to respond to all the stimuli. If I don't there is a nagging feeling of something left undone.
As I packed my various gadgets for our trip I had felt that I needed a lot of electronic stimuli, but in the end I spoke only to my kids on the hotel phone ($2 a minute!) and the movies, books and music I had downloaded to my various I-somethings went unused. Sailing, walking by the beach, drinking my coffee while looking out at the beautiful aquamarine sea and spending each meal conversing and laughing with my husband and our friends took up all my time and finally got my full attention.
In the future I plan to spend at least a little time "unplugged" now and then, and some of those emails might even languish in my "inbox" for a day or two. Or not.