Uniforming D.C. Taxis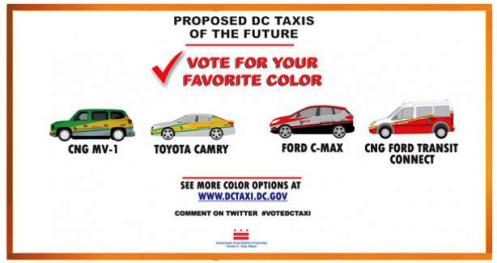 Monday, Mayor Vincent C. Gray and DC Taxicab Commission (DCTC) Chairman Ron M. Linton introduced four proposed color schemes for the district's taxicabs. The vehicles are currently on display at the Verizon Center to invite public comment.
A standardized uniform color scheme for the DC taxicab industry is part of the upgrades to the industry mandated by the Taxicab Modernization Act.
For more information, and to view additional proposed color schemes, visit DCTC.
Final recommendations are expected by the spring of 2013.
Let us know what you think here.