Underneath Georgetown's street, a chance to restore history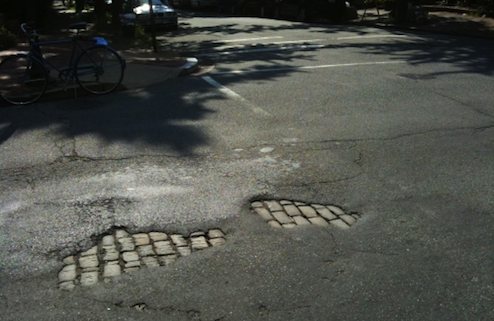 GM happened to notice this weekend that a couple small patches of asphalt on 29th st. have eroded away to reveal the wonderful cobblestones that lie beneath (alright, if you must be a stickler, they're really called Belgian blocks or setts, but let's not get hung up on that).
GM tried to do a little research to find out how many of Georgetown's streets still have these stones underneath the asphalt, but came up empty-handed. At the very least 31st street does (Update: an astute reader pointed out that this photo is of 29th st., not 31st. But GM does remember seeing Belgian blocks on 31st when they repaved it last year). Obviously there are cobblestones on O and P where you can still see the streetcar tracks, but (for now at least) those tracks and the stone continue underneath the asphalt along the route's old loop by the University. (The tracks currently under asphalt will be removed during the streets' rehabilitation, which is set to begin later this year).
But could it be that the rest of Georgetown also still has Belgian blocks as their foundation?
Read more at Georgetown Metropolitan