Uncorking Art, A Little Wine & Pizza For All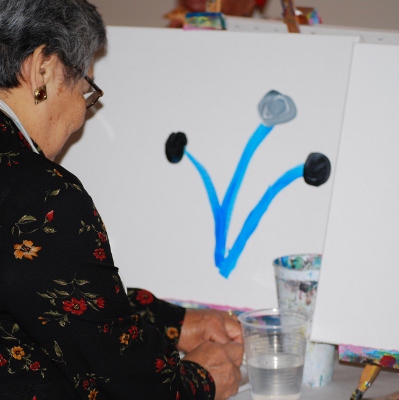 Fourteen residents and employees of the Georgetown Senior Center created new art at a special program sponsored by MOCA DC and Uncork'd Art, two Georgetown art-related corporations, at Canal Square on Monday afternoon.
The idea stemmed from a recent article in a neighborhood newspaper about the center and activities it offers.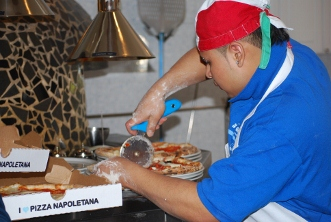 Dave Quammen, of MOCA DC, and AJ Rahim, of Uncork'd Art, agreed that an art-experience would be a welcome diversion from the usual activities seniors might have available to them.
During an extended lunch time of nearly four hours at MOCA DC Gallery, the seniors spent the first hour chatting while eating a variety of 10 delicious pizzas, donated by il Canale ristorante and pizzeria located just across 31st Street from Canal Square. They sipped wine, donated by MOCA DC, which was served from a special wine bar.
From there, they painted on canvasses.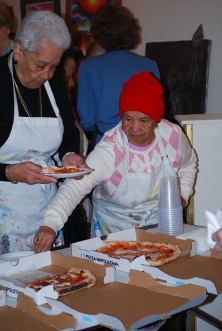 Uncork'd Art donated the canvas, paints and teachers for the main event, which showed seniors how to paint an image selected for the session. This has become a very popular style emulated by many lately, and Uncork'd Art has been providing sessions for nearly two years. It has a program that makes the session a memorable experience, regardless of the final result.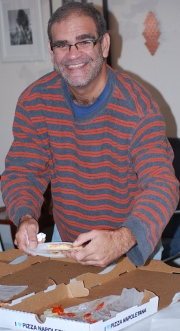 There are no costs to either the center or individual seniors for any of these activities. The seniors traveled to Canal Square and back home via the center's van. Quammen, a senior himself at 73, and Rahim are thinking of expanding the program to seniors located in other neighborhoods in the District.