Turn Up The Heat Gala's 'Winter Harvest Slaw' Recipe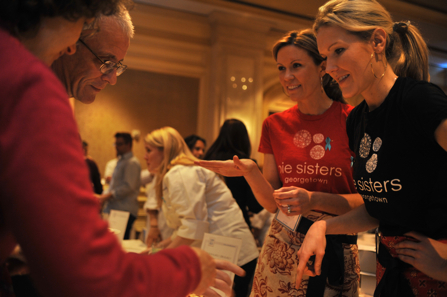 Monday's "Turn Up The Heat" Gala at the Ritz-Carlton attracted more than 340 ovarian cancer survivors and supporters, who feasted on savory dishes, desserts, and drinks prepared by women chefs from more than 42 of Washington's best restaurants, and left with goodie bags including a red velvet Georgetown Cupcake. More than $24,000 was raised for the Ovarian Cancer National Alliance in a live auction during a ceremony MC'd by popular NBC-4 newscaster, Wendy Rieger.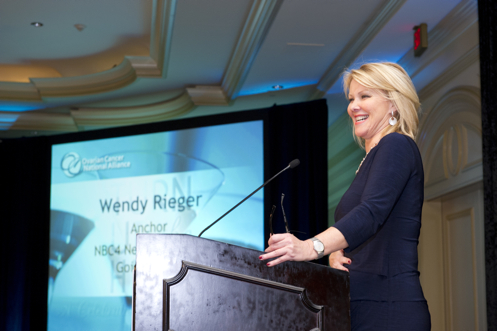 Keynote speaker, 16-year-old cancer research phenom, Jack Andraka, entertained the guests with hilarious - sometimes poignant - stories of how he worked toward inventing a cheap, simple, early detection test for ovarian cancer, which he patented and hopes to be available to consumers in five years (amazed guests remarked, "What were you doing at age 15?").
Washington's top women chefs delighted guests with their very special dishes, including Chef Amy B Catering & Consulting's Amy Brandwein serving her "Pici with Wild Boar Ragu," Penn Quarter's Social Reform Kitchen & Bar's Executive Chef Janis McLean serving her "Pork Rillette Croquette with a Mustard Sauce and Winter Harvest Slaw" (see "Winter Harvest Slaw" recipe below).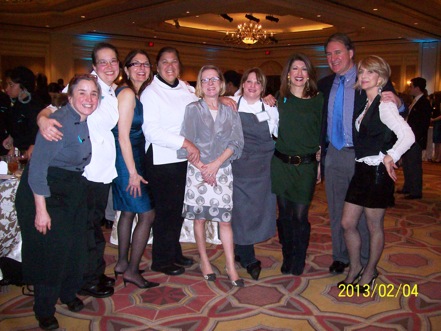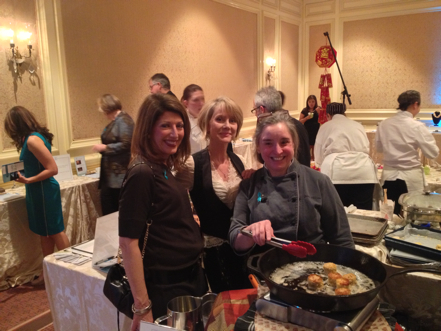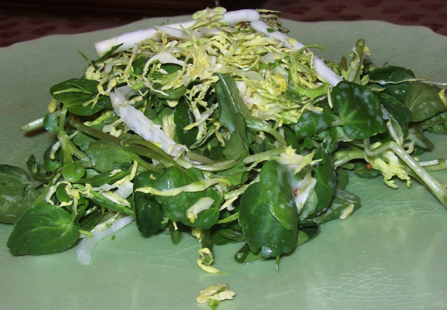 Janis McLean's Winter Harvest Slaw
This winter slaw is bright and fresh and so tasty! The combinations of flavors just work !!! If you are a bit intimidated by using a mandoline, check with your local specialty grocery store, sometimes they carry pre-packed already shaved Brussels. Just make sure they are super fresh and use immediately. Do not be worried about how much salt is in the recipe, most of it is washed off. This technique is often used with green cabbage slaws to soften the cabbage and it does a nice job in this case too.
Brussels Sprouts, 1 pound1 tablespoon salt & 1 tablespoon sugarWatercress, 1 bunch (trim the bottom half of the long stems)Gala Apple, 1 (peel on is ok)Celeriac, 1 headToasted Pine nuts, 2 Tablespoons
Vinaigrette
2 Tablespoons Champagne Vinegar1 teaspoon Dijon Mustard1 teaspoon Honey½ shallot6 Tablespoons Canola Oil1 teaspoon Coarse Grain Mustard
1. Shave the Brussels sprouts on a mandoline by holding on the stem end and passing back and forth on the mandolin blade. When you get down to the bottom nib just discard it. Place the shaved Brussels in a sieve, sprinkle on the salt & sugar mixture and let it sit for an hour or so. Rinse with cold water and then squeeze dry.2. Wash and dry the watercress.3. Cut the apple into slices; discard the center core. Then cut the slices in to thin little match stick size pieces .4. Peel the celeriac. Cut into slices and then small pieces the same size as the apple. The size of celeriac bulbs vary, so you probably only need half the bulb, reserve the other half for another use. You want about the same amount of celeriac as you have of apple. If you do this ahead, store in cold water with a touch of lemon juice.5. To make the vinaigrette: combine the vinegar, Dijon Mustard, honey and shallot in a blender. Whirl to blend. With motor running, slowly dribble in the canola oil through the top pour spot. Once combined, add in the coarse grain mustard by hand.6. Combine the shaved Brussels sprouts, watercress, apple, celeriac and toasted pine nuts in a medium bowl. Pour in enough dressing to dressing to taste. Toss.