Turkish Journalist Plans Café in Georgetown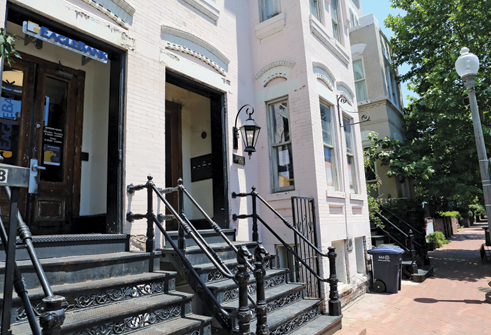 By Mark LiebermanCurrent Staff Writer
Emel Bayrak — a Georgetown resident and White House correspondent for a Turkish broadcasting service — plans to open a new coffee shop and wine bar in her neighborhood where she might eventually host and film interviews with government officials.
Café Georgetown at 3141 N St. NW, just east of Paolo's Ristorante on Wisconsin Avenue, plans to sell French pastries, beer and wine. But its primary feature will be coffee from the Philadelphia-based roaster La Colombe, which has five D.C. locations. Bayrak is seeking a beer and wine license that also includes an entertainment endorsement.
"Coffee shops create a coffee culture [and] bring people together. It creates a community where one can exchange ideas, jokes, and make new friends. That's what I hope to achieve at Café Georgetown," Bayrak wrote in an email. "I want it to bring together people from many backgrounds — my Georgetown neighbors, students, the diplomatic community, and friends from the White House."
In an interview, Bayrak said she started working on the business plan for her shop in 2011. Searching for a location took several years, but she ultimately landed just three blocks from her Volta Place home, far closer than she'd anticipated.
The store's alcohol license would allow maximum hours of 6 a.m. to midnight seven days per week, with live entertainment permitted from 8 a.m. to midnight.
Advisory Neighborhood Commission 2E (Georgetown, Burleith) and the Citizens Association of Georgetown both voted this month to protest the cafe's alcohol license application on the basis of peace, order and quiet. Representatives from both said at last Thursday's ANC 2E meeting that they need more details about potential noise impacts before getting on board.
"This would not be live music," Bayrak's liquor license attorney Sidon Yohannes explained at the meeting. "It would be the operator conducting interviews and then streaming them."
Bayrak hasn't finalized her plans for that component yet, but she's hoping to invite prominent government officials for informal interviews that might eventually end up on YouTube or in podcast form.
Bayrak told The Current she hopes to open the coffee shop in August. ANC 2E's Lisa Palmer said she plans to meet with the establishment's attorney on July 12 in hopes of reaching a settlement agreement.
The Alcoholic Beverage Control Board has scheduled a protest hearing for the beer and wine license for Sept. 20.