Tudor Place Selects Next Executive Director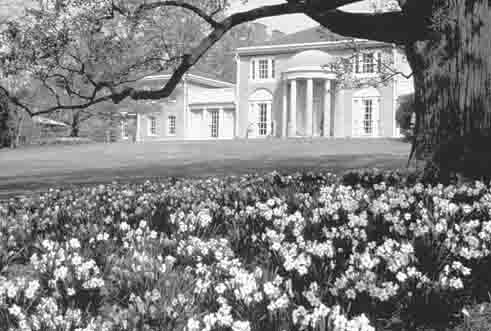 By Deirdre BannonCurrent Correspondent
After overseeing a significant transformation of historic Tudor Place in Georgetown over the past 15 years, executive director Leslie Buhler will retire in October. After a national search, the organization's board has appointed Mark Hudson from the Vermont Historical Society to be the next executive director, starting Oct. 5.
Praise is widespread for Buhler's leadership at Tudor Place, which went from an appointment-only museum with uncataloged collections to an award-winning facility recognized for its efforts in museum education, archaeology, conservation and horticulture, as well as its collections.
In June, Ward 2 D.C. Council member Jack Evans introduced a ceremonial resolution, later passed by the council, that honored Buhler for her work at Tudor Place.
"When Leslie Buhler took charge, only clear leadership could have transformed it into the thriving modern museum it is today, where 'America's story lives,'" the resolution states.
Tudor Place dates back to 1816, when the granddaughter of Martha Washington, Martha Custis Peter, built the house with her husband Thomas Peter. After six generations of Peter family ownership, Tudor Place opened to the public as a museum in 1983. It remains one of the few historic urban estates that retains the majority of its original landscape, and its collection features more than 15,000 items from the mid-18th century to the late 20th, including the largest Martha and George Washington collection on view outside of Mount Vernon.
Buhler led meticulous cataloging of the historic home's artifacts and tackled long-deferred repair and restoration of the site's buildings and grounds. She called her work "extraordinarily gratifying."
Her list of accomplishments at Tudor Place is long, but looking back on her tenure, a few initiatives stand out. Key examples are an education program that serves more than 3,000 schoolchildren, young adults and seniors in the greater D.C. area; the restoration and conservation work at the site; and the relationship she developed with the Georgetown community.
"When conservation is done on something like a daguerreotype of Martha Custis Peter — the only known photographic image of the granddaughter of Martha Washington — it's so thrilling that you can see somebody who was born at Mount Vernon with George and Martha Washington," Buhler said. "You can see them in their older years, and it just makes history seem so much more present in our lives."
And through archaeology digs at the site, "we found wonderful remnants of Tudor Place's early years," including objects from the Peters family and the slaves that lived there.
Buhler also oversaw city approval of Tudor Place's master plan, which includes carefully designed additions to secondary buildings on the site that will add a visitor's entrance, a greenhouse and a climate-controlled storage area for the archival collection. It also includes additions to the education center, allowing staff offices to be moved out of the residence. The plans were approved by a cadre of city officials, and they will accomplish a needed expansion without significantly changing the site's footprint or the main house.
When Buhler passes the torch to Hudson, he will be in charge of overseeing the construction and bringing those plans to life.
"Leslie has done a tremendous job," said Hudson. "The vision through the master plan for the site is bold, and it suggests to me an organization that really is interested in doing everything it can to fulfill its mission — and that's an amazing opportunity to come into."
Hudson will come to Tudor Place from the Vermont Historical Society, which he has directed since 2009. It's a statewide organization that includes a museum, substantial collections, a genealogical research library, a biennial state history expo, the Vermont Women's History Project and a publishing arm. Hudson has worked in the region before, having directed the Historical Society of Frederick County, Md., from 1998 to 2009. He is originally from Missouri.
Also ahead for Tudor Place is the celebration of its bicentennial next year, which will include unique programming at the historic site.
"It's pretty exciting to walk into that," Hudson said. "One of things that is quite impressive to me is the level of commitment Tudor Place makes toward the preservation of its collections and the historic property. They are doing all the right things, and I think the next two years will be quite transformative for the organization and for the site."
While Tudor Place is looking forward to its future, Buhler will be missed. Communications director Mandy Katz recalled that when storms came or the roof leaked at night, "Leslie was on it; she was very involved in everything. And she was great at guiding the staff to do their best."
And likewise, Buhler will miss Tudor Place and the Georgetown neighborhood.
"I really enjoyed and feel I like accomplished and built a strong relationship between the Georgetown community and Tudor Place, which is something I value professionally, personally and highly," Buhler said. "The site is truly unique and full of discoveries — it's a treasure within Georgetown that needs the support and care of the community, which I think we have. People need to fully understand what all is in here in our midst."
This article appears in the July 29 issue of The Georgetown Current newspaper.