Trump Whisperer Larry Kudlow: Just a Friend?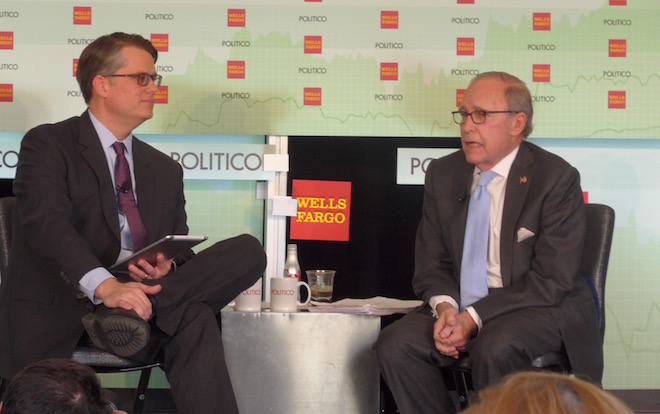 Drill, baby, drill! fans, Trump administration whisperer Larry Kudlow says you'll be in luck under the new administration, which he may join -- taking, in his words, a "second bite at the apple" after an earlier stint in the Reagan White House.
Mentioned as potential Chair of Trump's White House Council of Economic Advisors, Kudlow was interviewed before a standing-room only crowd Tuesday at the W Hotel by respected journalist Ben White, who writes the must-read "Morning Money" column for POLITICO.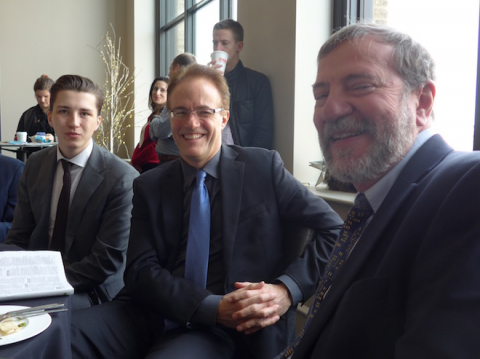 The Huffington Post said the appointment "could work, provided the scenario involves periodically releasing Kudlow from a box, getting his advice, stuffing him back inside, and then doing exactly the opposite of his suggestions." Ouch.
Here's what the genial Kudlow had to say to Ben White at the POLITICO luncheon in Washington this week:
While Trump's selection of ExxonMobil CEO Rex Tillerson to be Secretary of State might be raising eyebrows on both sides of the aisle, "I think it's an inspired appointment," Kudlow said. "Nobody would have expected it. It's a good thing to know a lot of world leaders, and he's a negotiator. He's not going to give the store away."
Kudlow went on to cite a story by Jerry Seib in the Wall Street Journal. "Trump wants to destroy ISIS, but he's unlikely in other places to bring down the dictator. Instead, he'll want to make a decent deal."
"The Art of the Deal" is going to be a theme in this reality show – I mean, government!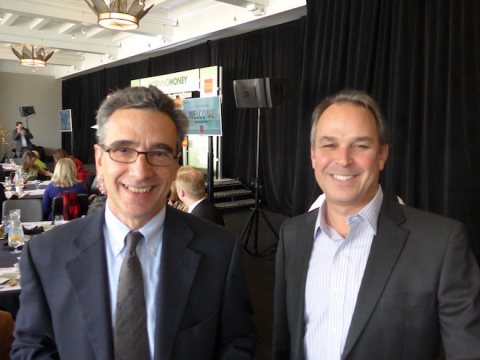 Until now, there were more generals appointed to top posts than Goldman Sachs alums, but Kudlow pointed out that the Goldman crowd has caught up with the choices of Steve Mnuchin for Treasury, and Goldman COO Gary Cohn as head of the National Economic Council.
Get ready for "four or five percent growth" for a few years, Kudlow said.
And having generals in broad, normally civilian cabinet roles is a good thing. "My saintly wife [painter Judith Pond Kudlow], an Air Force brat, daughter of a full-bird colonel before he retired, said this: 'Generals hate war. But if the mission is war, generals will win it.' We haven't had that for the last eight years."
More victories: Kudlow said corporate tax reform is coming, maybe before the wrecking ball hits Obamacare.
"My first choice was to eliminate the corporate tax altogether, but 15 percent ain't bad," he said, praising House Speaker Paul Ryan and Rep. Kevin Brady (R-TX), chairman of the powerful House Ways and Means Committee, now a forward-field command base for tax cutters.
On encouraging global companies to bring their dollars home at a reduced rate, "Just keep the [tax rate] as low as possible. I don't care how it is used. I don't want any strictures on it whatsoever."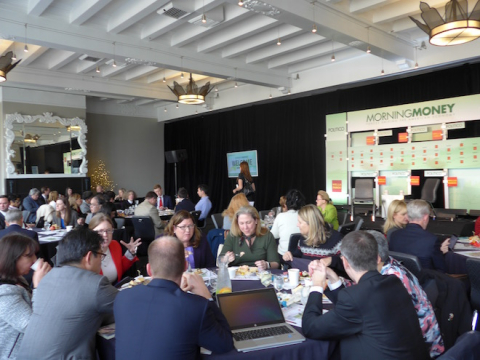 "In Kudlow world, if you provide the right incentives, U.S. companies will stay," he added.
"You've always been a free trader," White offered.
Kudlow: "You noticed."
Trump, or at least his rhetoric, is not, White pointed out. "Is he going to rip up the NAFTA agreement and slap tariffs on China?"
Kudlow: "It's fraught with peril how I answer this. I'll give you my opinion of what I think he'll do. Negotiate, renegotiate – The Art of the Deal. Carrots and sticks. I don't believe he's a major protectionist – that's my view. But NAFTA has grown old and could use some improvements."
On China: The country "lies, cheats and steals. But I don't think they're a currency manipulator. Counterfeiting, cyberhacking, we've got to talk about that," Kudlow said. "But I don't think [Trump's] a knee-jerk tariff guy. He just wants trade to be pro-American. Here's where a guy like Tillerson is going to come in handy."
Repeatedly saying he's a "friend" and not a spokesman for the nascent administration (translation: he may be joining the administration soon), Kudlow's forecast is that "the president-elect will do a bilateral trade agreement with Britain."
"I'm a big believer in the English-speaking trading world," Kudlow said. "I think there's a commonality. I call it Magna Carta 2.0."
White noticed that Kudlow was on a long call about policy in the green room before the interview started. "[Trump] has my cell phone number," Kudlow said.
Will Kudlow serve in a Trump administration? "I think it's going to be an historic administration," he said. Kudlow was associate director for economics and planning in the Reagan Office of Management and Budget (OMB), a part of the Executive Office of the President. While he worked at the OMB, Kudlow was also an advisory committee member of Freddie Mac.
"Usually you get one bite at that apple, but if the Lord gives me two…," yes, he would serve, he said, adding that Trump is a very good listener, "But someone who will speak his mind."
Yet, Kudlow predicts that Trump will have much better relations with Congress, with both parties, than anyone expects.
"To be a really good Republican you have to first be a Democrat. Ronald Reagan was a Democrat first, I was a Democrat. Trump was a Democrat for many years," he said. In fact, Kudlow was a member of left-wing Students for Democratic Action, and a college tennis standout at the University of Rochester as an undergraduate.
In his new book JFK and the Reagan Revolution, the CNBC senior contributor argues that President John F. Kennedy, not Ronald Reagan, was "the first tax-cutting supply-sider." The book, he said, makes a great Christmas gift. Kennedy would have been a Republican today, Kudlow added.
Calling Mnuchin an "excellent pick" who should be praised for doing "the best he could" buying banks that foreclosed on distressed loans during the financial crisis, Kudlow said he likes Trump's recent statements criticizing Boeing's price tag to build the next generation of Air Force Ones.
"Trump is going to end the war against business," Kudlow said. "Having said that, there are behemoths -- they're good companies -- but there's a lot of concern about crony capitalism. You know what? I agree with him. Cost overruns have been going on since John the Baptizer," Kudlow said, drawing laughs.
The Boeing proposal is "a hell of a lot of money for an airplane. [Trump] has an airplane. He knows something about it."
Kudlow predicted that, despite charges that Trump spreads misinformation and engages in personal attacks on Twitter, the president-elect will continue to use it as a bully pulpit. "You can agree or disagree with him. But he's going to keep using those pipes. I think it's kind of interesting. And I think presidential tweets are here to stay."
Regarding the possibility of Russian hacking of the presidential election? "It needs to be investigated," Kudlow said, most seriously.
Meanwhile, "It's Morning in America, Again" is just 140 characters...or less…