Truly unique Georgetown property for sale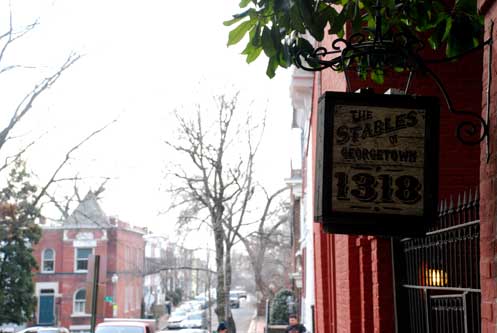 GM mentioned this briefly last week, but this calls for a bit more discussion: the Stables of Georgetown property (1316 33rd St.) is on the market. People on the west side are probably more familiar with this property than GM is, but GM is pretty confident that this is a truly unique property and it's one of his favorites in the neighborhood.
According to the listing, it is actually two separate houses that were originally built as stables in the mid-19th century. From the virtual tour photos, you can see that the original purpose still influences the interior architecture:
Here's the other building:
The design of the windows (and some of the interior) has a decidedly Spanish flair. This continues at the front of the building with its religious iconography:
This was probably not original since that window probably used to be functional (a hay chute maybe?) There's a pretty courtyard between the two houses too:
It probably says something profound about The Way We Live Now that a building that once housed animals is selling for $2.5 million, but GM doesn't really care. He just wishes he had a spare couple million dollars to snatch up this unique property.