A Trip to Asia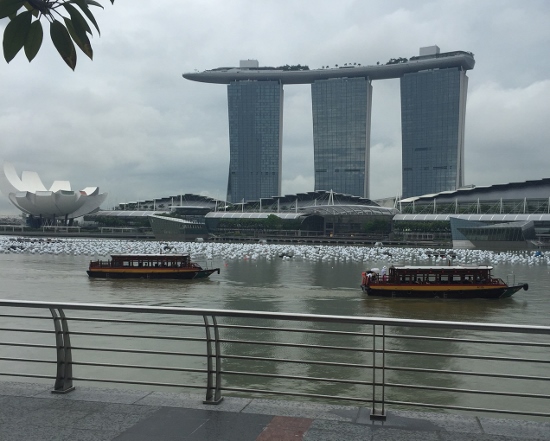 An enlightening excursion to Vietnam, Hong Kong and Singapore was a financial eye-opener ranging from high-high-end western stores to burgeoning entrepreneurship to clever tax-dodging.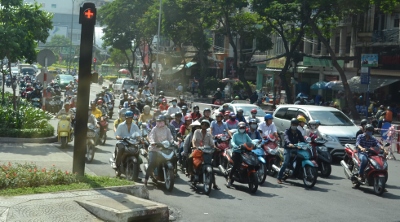 In Singapore at the Marina Bay Sands, the priciest clothing and luxury goods stores — including the world's largest Louis Vuitton boutique -- and fancy restaurants— Wolfgank Puck, naturally -- lined the floors of the immense three-story mall/resort. Opened in 2010, the resort complex, developed by Las Vegas Sands founder Sheldon Adelson, is an amazing building with three hotel towers, a museum, convention center, night clubs, an infinity swimming pool, indoor skating rink, theaters, a casino, and more. Atop is a huge platform spanning the three hotel towers and designed to resemble a local fishing boat. It houses bars and restaurants where people can view the city over dinner and drinks. There was no shortage of customers.
Designer Moshe Safdie has said that he was first inspired by card decks.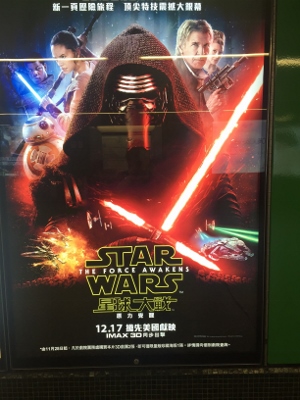 A canal runs through the length of the shoppes, in the same style as the Venetian in Las Vegas. What's a gondola in Venice is a sampan in Singapore, offering rides on the canal between the shores of stores that are popular with young adults and families.
Singapore has many more malls and streets of Gucci, Prada, and their ilk. For a different flavor, there are multi-block areas of Indian stores, Middle Eastern shops, and a Chinatown that feels, in part, like walking through a giant Oriental Trading Company catalog.
Vietnam seems eager to welcome tourists to its developing economy. In a park outside Saigon (well, now called Ho Chi Minh City), an evening runway fashion show displayed on gorgeous Asian models the most simply beautiful gowns and dresses. We were amused that many of the models wore denim jeans under the flowing scarf-like dresses –which made for quick changes in the dressing room.
Crossing the streets through the hundreds and hundreds of motorcycles, motor scooters, and bikes, bumper to bumper, was a daunting ordeal in Saigon, to the point where we were given formal instruction on how to cross. (Where there is no stop light, pick your starting gap and then walk at a steady pace; don't stop or speed up; the riders will go around you. Where there is a stop light, don't get too confident; light often are ignored.)
Many streets and a huge covered market have row upon row of privately owned small stores and booths that are packed with tea and coffee venders, fish and vegetable displays, jewelry, and every kind of electronic product you could image. You name it, it's surely available somewhere.
A lot of old left-over Saigon signs dot the streets, and much signage is in English. Despite nearly a century of French rule in Vietnam, there is almost no trace of signage in French. But the French did induce a major change in the written Vietnamese language, from typical Asian pictographs to Roman letters, with plentiful use of accent marks on the vowels.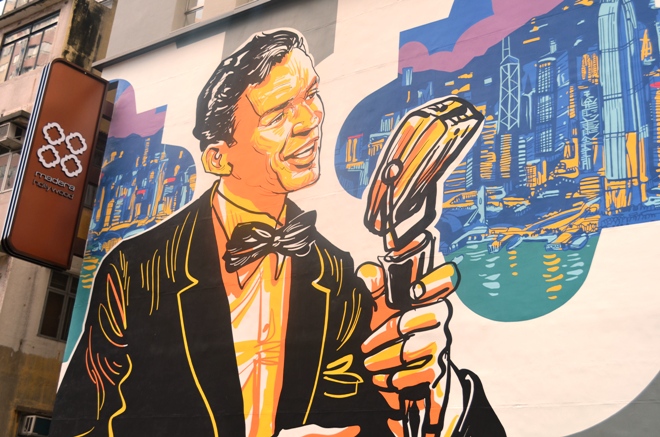 Although the end of the war in 1975 reunited Vietnam, there still is tension between the entrepreneurial south and the political north. The country is communist and has one political party, but the old-line communist economic plans are long gone.
We wondered why so many house and stores are very narrow. Our guide said that property taxes are based on the front footage of completed buildings. Less front footage, less tax. We also saw some multi-story houses with no roof. It seems that one tax avoidance trick is to build a house, live on the first floor, and have an incomplete second floor. House not completed, no tax. Children come along, finish the second floor and build an incomplete third floor. He told us some properties have gone tax-less for generations.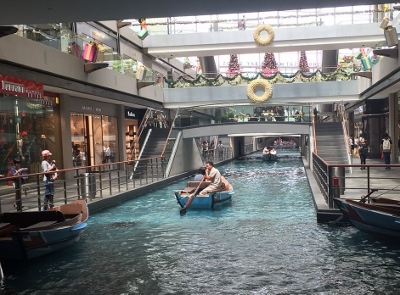 In Hanoi, one of our stops was the infamous prison nicknamed the Hanoi Hilton. The tour and signage focus mostly on how the French imprisoned Vietnam dissidents in the late 19th and first half of the 20th centuries. A smaller display discusses, from a distinctly Vietnamese perspective, the imprisonment of American pilots during the Vietnam (they call it the American) War. Photographs show the prisoners playing volleyball and otherwise enjoying themselves during what presumably were brief propaganda photo-ops. John McCain is easily recognizable, but not identified, in one photo. And, yes, in one more sign of how things have evolved since the war, there is a Hilton Hanoi, near the opera house.
Our guides in all locations were excellent, but there was a fascinating difference between two of them in Vietnam. One in Hanoi spoke repeatedly of "our nation" and its accomplishments with great patriotic pride. The other, in Saigon, mentioned that he has only two more years to wait out of a required ten before he can join family members in San Jose, California.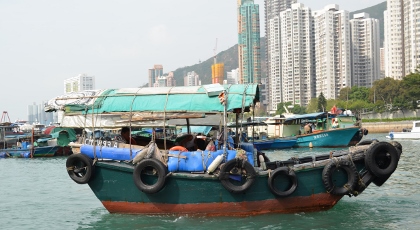 In Hong Kong's Wall Street-like financial area, the lunch-time scene was incredible. Massive shoulder-to-shoulder crowds of mostly young people filled the sidewalks and crossings, their eyes glued to their smart phones. It was much like DC, where you have to be careful they didn't amble into your path on the sidewalk, but was much more densely packed.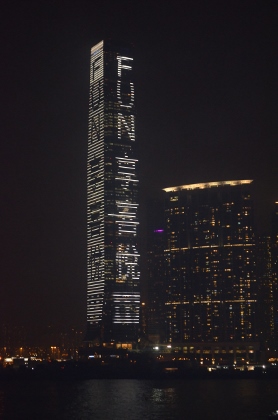 Hong Kong has essentially all of the same luxury goods stores as Singapore, plus many small shops. But don't count on a bargain. Wandering along a street (named Hollywood) of antique shops and galleries, I spotted a poster in a shop window announcing an art show that had closed a few weeks earlier. One of my hobbies is framing posters from around the world to display on my walls.
After the shop owner whipped out his calculator, I was informed that the little poster could be bought for $100 US. I tried to bargain down to $50 but no deal. He still has the poster.
One element united Singapore, Hong Kong, and Vietnam: Starbucks and McDonald's were everywhere, although McDonalds didn't seem to use its full name, only the golden arches M and McCafé.