Trending: Colored Denim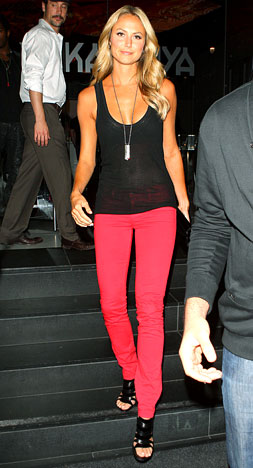 It's official Washingtonians, spring is here (YAY!) and what better way to welcome in the warmer days ahead, chirping red robins and blooming blossoms than with colored denim!? Feel like you're having a case deja vu? Not to worry because you are - this isn't a new trend but it's once again one of the hottest trends for Spring/Summer 2012. IMO it's not even just a trend for Spring/Summer since these POC (pop of color) denim duds work year-round, but they're especially welcome at this time of year to bring in a rush of bright and bold colors as we transition out of the gloomy, cold days of winter.
Pick up a bright pink/red pair like Stacey Keibler's wearing but change it up and pair it with a pair of nude pumps instead of black and a crisp white button down and don some gold jewels - effortlessly chic.
Or go for the green! They'd work with a black or white top or colorblock and wear them with a mint green flowy top or keep it casual and wear it with a white tank and fitted black blazer.
Both colored denims above are Joe's Jeans available at ShopBop
Elie Tahari also has a great line-up of colorful denim this season in-store at Tysons Galleria or online.
There are SO many ways you can wear these colorful jeans, the possibilities are just endless - dress them up or down, keep everthing else neutral or colorblock til' your heart's content, be creative! Head in to your local department stores or boutiques - Saks Fifth Avenue Tysons Galleria, Cusp in Georgetown or Urban Chic in Fairfax - as they'll have plenty of options! :o)
XOXO
~MyDCStyle