Tree-box problems catch Georgetowners' attention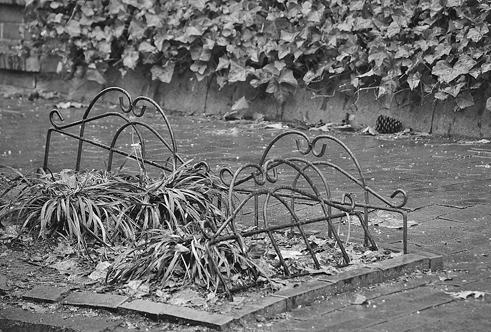 By Deirdre Bannon Current Staff Writer
Georgetown resident Edward Emes was on his way to a neighbor's holiday party last month when his foot caught in the wire loop of a low-lying tree-box fence. He fell — hard enough to pull the fence's stakes out of the ground — and badly injured his knee and shoulder.
"It was built to catch my foot," said Emes, who wrote about his experience on a Georgetown listserv because, he said, he was "plain frustrated" with noncompliant tree-box fences in the neighborhood.
Emes' wife Betsy is a longtime tree preservation activist and current chair of Trees for Georgetown, a volunteer committee of the Citizens Association of Georgetown that helps install suitable tree-box fences. She say the offending fence was less than a foot tall and made of "flimsy" wire material that was bent out of shape, making her husband an easy nighttime target.
Jennifer Altemus, president of the Citizens Association of Georgetown, said the cause of such problems may just be lack of information. "Most people want to do the right thing — sometimes they just don't know what that is," she said. "In most cases, problem tree-box fences are easy to correct if people are made aware of what to do."
The city's Urban Forestry Administration, which falls under the Department of Transportation, is responsible for regulating tree-box fences. Associate director John Thomas said the city has specified that tree-box fences be three-sided, 18-inch-high structures made of rod iron, with the open side facing the curb. Dimensions of the fence vary depending on the size of the tree box, but most are 4 feet by 9 feet or 6 feet by 10 feet. The fences should also be set back from the curb 6 to 10 inches to allow car doors to swing open.
Thomas said the biggest problem he sees with tree-box fences are those that are closed on all four sides and made of concrete or brick, as they shut off the tree from stormwater that is needed to help it grow. Plus, by absorbing the water, trees help prevent pollutants from making their way to the Potomac River.
"We want residents to know that we pride ourselves on tree preservation and inspection, and we want to work with residents who want to help beautify tree box spaces," said Thomas.
The Urban Forestry Administration has a staff of 10 arborists and two others who helped to inspect 42,000 trees across the city last year. Thomas emphasized that the agency relies on calls from residents to report problems with the condition of trees or their fences.
Both Thomas and Altemus encourage the public to call the city's 311 line, or visit 311.dc.gov, to report issues. Altemus added that the Citizens Association of Georgetown is also able to help residents connect with contractors experienced in installing tree-box fences in the neighborhood.
For Betsy Emes, the biggest problem is enforcement. There is "no point having these regulations if DDOT is not going to enforce them," she said. Both she and her husband would like to see fines assessed to homeowners with noncompliant tree-box fences.
Now, when urban forestry determines a tree-box fence is noncompliant, the agency simply removes it.
Ward 2 D.C. Council member Jack Evans is also involved. After learning of Emes' fall — which sparked concern from many residents about both tree-box fences and the poor condition of some sidewalks — Evans' office arranged a walkthrough with Transportation Department officials next month.
More information on tree-box fences and the city's tree preservation programs is at ddot.dc.gov.
This article appears in the Jan. 4 issue of The Georgetown Current newspaper.