Travel Tip: It's an Italian Lean That'll Make You Still Leaner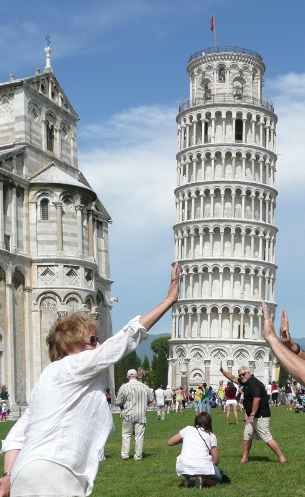 Travelers are routinely warned by experts to keep an eye – or a hand – on their valuables. Sometimes that caution can vanish in the excitement of the moment.
Like at the Leaning Tower of Pisa in Italy.
An amusing photograph to take at this popular tourist site is one where you position yourself so that it looks like you are holding up the very beautiful, but tipped, historic monument.
It also is a place where the unscrupulous mine for euros. All your attention is on snapping the perfect shot. Your hands are busy, either as a subject keeping the tower from falling over or giving it a final nudge, or as the photographer.
Women plop their purses on the ground to pose for that shot. Men put their backpacks aside.
On the day our group visited, some other tourists had their wallets lifted by swift thieves who have made a study of what people do to get that shot.
What a wonderful picture to show to friends back home, although some wallets could be leaner. If you go to view that awesome tower, be aware. The woman kneeling in the picture is taking the shot the right way.