Transitioning!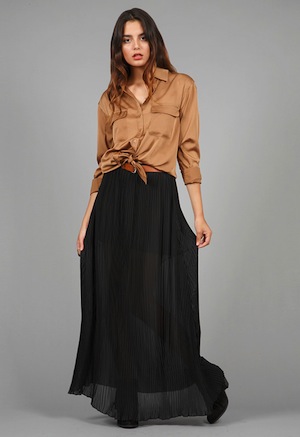 It's that time of year again - transition time! When Fall is near but not yet quite here, and your sweaters won't work, but you need more coverage than shorts and sleeveless tops.
Transitioning is easier than you'd think, it's all about putting together outfits with pieces that layer well. Blazers are a great transition piece, since you can wear them over jeans, shorts, or a skirt, or a button up, a tank, a long-sleeve T, or a lightweight sweater. Scarves are also a must-have in the transition months because they'll keep you warm when you need it, but you can take them off if you want to.
Paper Crown Ryder Blazer in Camel available at Singer22
Scarf available at JCrew
Booties sans tights are perfect for the transition time! They look great paired with tights, but save that for the colder months of winter - for now, throw them on with a pair of shorts or cropped jeans or a maxi skirt.
Rachel Zoe Audrey Ankle Booties
Maxi skirts are fabulous - you can wear them as seen below, belted with a blouse tied in the front, or pair it with your blazer and a tank or with a crochet knit sweater. Wear it with booties, riding boots, flats or heels - they pretty much go with everything! In other words - there's more than one way to wear them and they're not just meant for summer. When the weather turns colder just throw on a pair of tights underneath.
Lovers + Friends pleasted black maxi skirt available at ShopStyle
I love a great crochet knit sweater! They're cozy and comfy and allow for more breathing room than a traditional sweater would. Pair yours with a pair of jean shorts and booties or cropped jeans like the ones below by Current/Elliott.
Cream-colored "Pegasus Sweater" availalbe at ShopBop
"The Roller Jean" by Current/Elliott
Booties by Dolce Vita available at ShopBopSinger22
So what are you waiting for? Head to your closets and start putting together your transitional outfits! :o)
XOXO
~April