Top dogs in Georgetown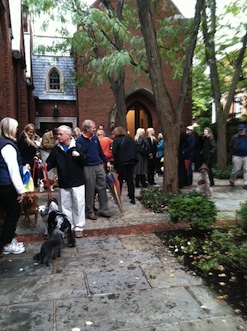 President Obama popped by a party on N Street Friday evening, creating quite the buzz--and gridlock--in the East Village for the second time in two weeks. One neighbor walking by commented, "Wasn't he just here?"
By Sunday, the neighborhood had gone to the dogs--literally. But in a good way! The Reverend Stuart Kenworthy anointed neighborhood dogs (and two cats) with holy water for the annual "Blessing of the Animals" at Christ Church on O Street. The ritual took place in the church's leafy courtyard where canines of all colors, shapes and sizes were blessed in honor of St. Francis, the patron saint of animals.
Despite a few yaps and, possibly (I'm not naming names), some unholy water landing on nearby box bushes, the courtyard at Christ Church remained a peaceable kingdom.