Toast the Vote at Tony & Joe's and Nick's Riverside Grill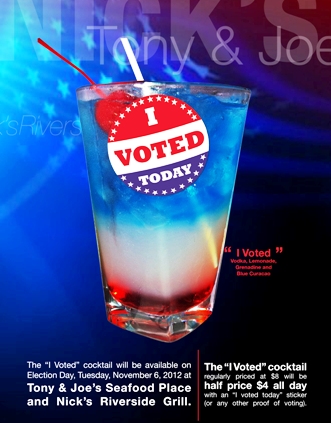 After enduring over a year of political hype, when we answer the call as Americans to perform our civic duty to vote, we deserve to celebrate!
Tony & Joe's and Nick's Riverside Grill has decided to do just that. Reward the voter.
So, for those toasting their favorite candidate and applauding the end of the political season of endless television and radio ads, come to Washington Harbour on Election Day and enjoy an All-American red, white and blue "I Voted" cocktail created by chef David Stein of vodka, grenadine and blue curacao.
Just wear your "I voted" sticker or show any other proof that you voted to Tony & Joe's or Nick's Riverside Grill to enjoy half off the "I Voted" cocktail, only $4.
They'll be tuned into Election Night coverage on their 15 televisions so you can track the progress and see the results of your favorite candidate.