Titi & Lashing: A Joy Forever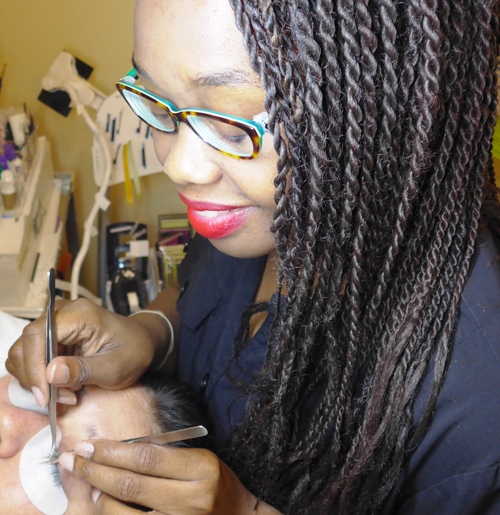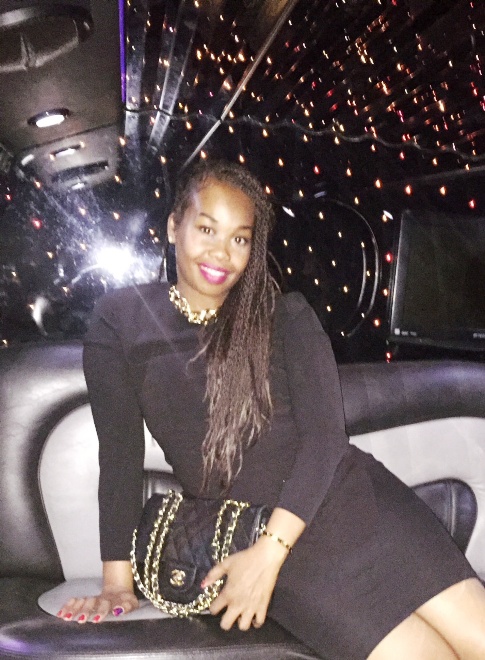 Thanks to a pair of custom-designed Swarovski-studded jeans and the right audience, Titi's lash career was born. Yes, I said lash career. More on that in a minute.
It was ten years ago, and this DC native had never even heard the term stylist when she helped a friend volunteer at Mercedes Benz Fashion Week in New York City. Soon she was recruited for other shows because of those fabulous jeans, natural style and personal touch. From there, it was on to Europe where she freelanced for magazines and music companies. While the money was good, and the styling for stars seemingly glamourous, Titi found herself, "looking for that spark. It was all feeling like laborious work." The creative part, helping clients look great on camera and off she loved but most of the time she was collecting clothes and meeting deadlines.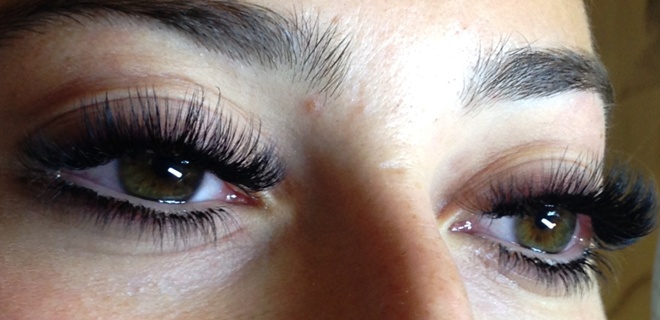 Growing up, her single and very stylish mom wanted her to stay culturally grounded and respect her Nigerian heritage, but also encouraged her to follow her passion for fashion. She came back home and started working at a spa. "I learned that, in addition to fashion, I also love beauty, skin care, all those things that keep you looking and feeling your best."
It was there that Titi discovered lashing, one of the new services the spa offered. It was 2007 and Titi needed her own lash extensions for a big event but her lash lady wasn't available. "I was literally cutting the lashes I bought in the drugstore and applying them individually on myself." Rave reviews and questions about who had done her lashes prompted friends to encourage her to get certified. "But who goes to school for lashes?" Titi asked. And then she surprised herself by getting trained and certified in five different lash enhancement techniques, and she's still at it, performing her magic on lashes and brows.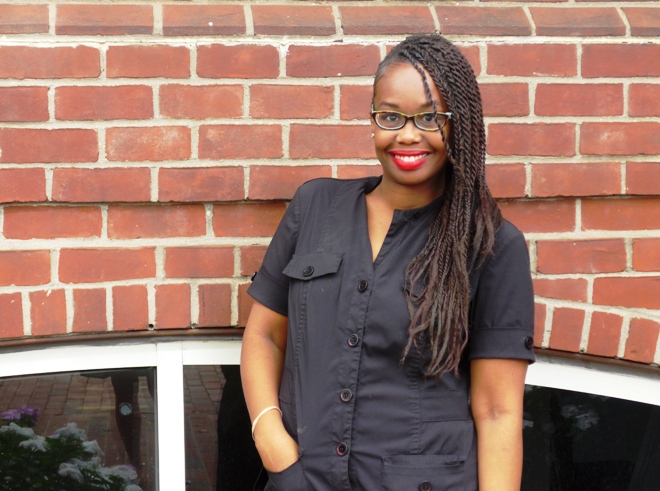 While I was getting a Meta-Therapy facial at Georgetown Salon & Spa, Linda Hardiman, my wonderful aesthetician was explaining that Titi lashes even fooled her eye doctor. She asked him if she should remove her lashes. "Remove your lashes for surgery? What lashes?" He was incredulous that they weren't her own. I looked up at Linda's eyes. I'd been going to her for months and I too hadn't noticed. Before this conversation, my eyelashes were not even on that ever growing list of body parts that needed help.
After looking at dozens of photos of eyes and answering a battery of questions about my styling and shape preferences, Titi (who works across the hall from Linda) was ready to work. If ever there was a profession where perfectionism is paramount, this is it. She designs her lashes to be ultra lightweight and super soft (hollow and silk) so you barely feel them, unlike traditional lash extensions that can be too heavy and stiff. Light and comfortable, they can last from three to seven weeks depending on the life cycle of your own natural lashes. She attaches each strand to one of your own lashes with precision, and the look is seamless. Needless to say, I was dazzled.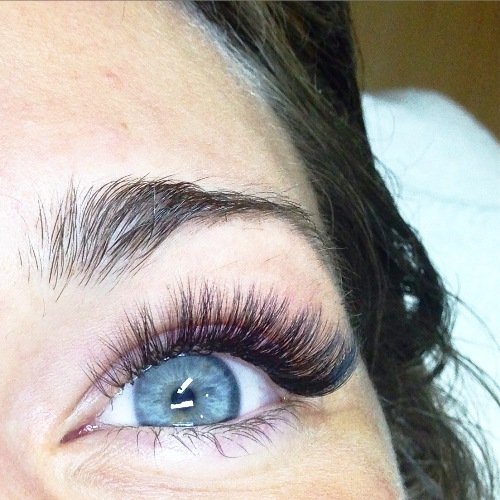 No more wear and tear on my eyes by applying mascara, which I had been doing sometimes twice a day. Recently I was at the Armani cosmetics counter (after three weeks) when the sales person complimented me, asking which mascara I used. Thank you, Titi!
Indeed, she's absolutely fabulous but, after doing lashes exclusively for five years now, I wondered whether she'd ever grow tired of it. "I love the process, which allows me to be creative, I love the detail and I love the way I feel afterwards. Instant gratification knowing my clients are so pleased." So that's an emphatic 'no.' Ok then, where would you like to be in ten years. Confidently, Titi replied, "I'll be a mogul with my own lash line." Well, the line is coming a lot sooner that. Stay tuned.
True to a Nigerian custom of naming a baby after the death of another, Titi's older sister died as an infant. How fitting that in the West African language Yoruba, her full first name, Titilayo means 'Joy is Forever.'