Tip deLuxe - Window Shopping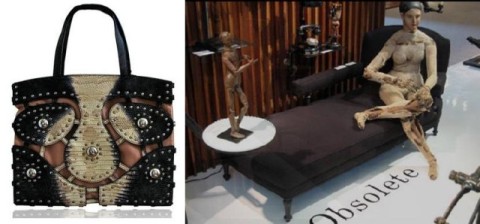 WINDOW SHOPPING"Where did you find that?!" This is a question I often hear from friends, colleagues and readers. The truth is there is no magic answer, but there is a strategy of sorts. Keep your eyes open. As a visual person and designer, I am interested in what I see around me - fashion, nature, architecture, interiors, etc. It's not a concerted effort, but I am always considerate of the beauty around me and how I may incorporate it into my personal, aesthetic world. I guess, for lack of a better term, I'm a compulsive [window] shopper. I don't always buy, but I do always look. And when I see something I love, an unbelievable deal or a piece that's truly one-of-a-kind, I pounce. No hesitation. You need to know who you are, what moves you and be ready to pull the trigger. Be open. Be fearless. But beware. Looking can lead to spending! EBAY It's amazing what one can find on ebay. Really. Great. Stuff. This worldwide yard sale is brilliant, easy and totally addictive.
Left: Large, signed Curtis Jere Peacock Wall Decoration Right: Portmeirion Malachite Soup Tureen VIVRE Founder, Eva Jeanbart-Lorenzotti,combs the globe and finds to-die-for jewelry, clothing and home goods. Her jetset lifestyle and exquisite taste make Vivre one of my favorite go-to resources for all things special.
Left: Gecko Letter Opener by L'Objet Right: Ombré Migration Tote by Sang A GILT GROUPE This is a new resource for me. Members enjoy luxury brands at deep discounts. The site is always fresh because of limited availability and focused "sample sales".
Above: Geren Ford Jerry Pump. I've been a fan of this designer for years and have a few of her tops. Little did I know, she makes shoes too. I've been in the market for a chic, comfortable nude pump for work, so I purchased this stunner online yesterday. Below: Badgley Mischka Silk Chiffon Floral Print Tie Waist Gown Lovely and only $229 - yep, that's no typo – and it's still available in my size.
ONE KING'S LANE Like Gilt Groupe, this website sells luxury items for a limited time. But what I really like is their Tastemaker Tag Sales. Top-shelf aesthetes including interior designers, antique dealers and fashion stylists offer curated collections every Saturday at 8AM.
Above: A vignette above from Obsolete. This weekend shop Ray Azoulay of the this Venice, California shop/gallery. RANDOM OPPORTUNITIES We all get bombarded with emails from online vendors on a daily basis. I find that I spend a good ten minutes every morning deleting the deluge of solicitations in my inbox. Do I really need a Smith & Noble email every day??? But every now and then, I do click open in lieu of delete. I think of it as popping into a shop off the beaten track or maybe one I just didn't think was my style. Funny thing is, that's where I usually discover my best "finds". Below are some of the items I stumbled upon in the past week.
Above: BCBG Coil Necklace Simple yet dramatic and only $28.00!!!
Above: Demakersvan Cinderella Table of Carrera MarbleSotheby's at Sudely Castle, May 28 – August 31.
Left: Martin Margiela Top Made of Army Socks Middle: Yves Saint Laurent Chunky Numbered Gold Necklace Right: Vintage Mongolian Lamb Vest All available through 1st Dibs Fashion and Jewelry DivisionTricia xo