tip deLuxe - Look to Nature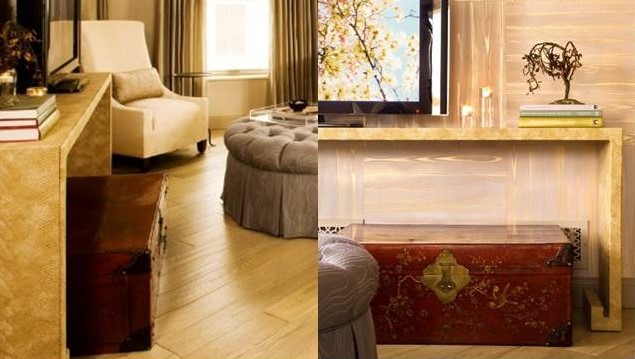 LOOK TO NATURE
In an era when so much design is bold and over-the-top, it can be challenging for the average person to step outside his/her comfort zone and make unique decorating decisions. One way to overcome this obstacle is to look to nature. Chances are if it - color, pattern, texture - works in the natural environment, it will work in your home. Look at the examples below and you'll see ... even Mother Nature has a glamorous side.
As seen in last week's Luxe & Lucid post, my shelling excursion on Chappaquiddick yielded a wealth of design inspiration.
Cool, distressed planks and end cuts for wood floors in a beach house or country home.
A colorful yet delicate faux finish for a table, cabinet or mirror.
I gathered these acorns while on a walk in Battery Kemble Park last fall. The warm tone and subtle striae would make for a beautiful wood finish.
Think outside the box and the ubiquitous animal print and the animal world can add a unique and unexpected layer of interest to your interior.
Who knew? Chartreuse is a natural color! I would love to develop a living room color scheme based on the Silvereye's feathers – chartreuse, beige and grey … done!
And just such a room exists – the cool, sophisticated 2008 Kips Bay living room by Eve Robinson. To quote Ms. Robinson, "The living room is about the color of life. It is fresh, confident and colorful."
James Rixner's take on the same combination of hues.
Snakeskin was the textile this past year. Inspired by fashion and the fabulous footwear of Manolo Blahnik and Jimmy Choo, I designed a custom console table for a client's downtown bachelorette pad and had it wrapped in a faux snakeskin leather.
This incredible photo taken by Shannon Plummer illustrates the complex texture of an elephant's skin. SJW Studios has a wallcovering that when installed on the reverse, mimics just such a texture. Or you could enlist the talents of a decorative finisher like Colorfaux Designs who created the look below.
Tortoiseshell is both classic and modern – a finish that will never go out of style. I mean, really ... could the shell above be any more beautiful?!
Huntley & Co. is fabricating a mirror similar to this Mitchell Yanosky version to hang above the vanity in a client's master bath. So chic!
And finally, the haut monde of animal skins. Shagreen. The pebbled skin of rays and sharks can be found in its natural form – for a price – in accessories and furniture. But it's also being replicated these days in finishes and textiles to great effect. I will never, ever tire of this naturally glamorous material.
clockwise from top left: Clement Rousseau chair c. 1921, David Iatesta mirror in a Huntley & Co. powder room, R&Y Augousti bronze/shagreen/agate vases and antique secretaire by Jacques Adnet.
You don't need to look far. Rustic, subtle or glamorous – nature can inspire any interior.
Tricia xo
* POSTSCRIPT *
Huntley & Co. is featured this week in the Before & After section of lushclick.com - a modern girl's online design and lifestyle resource founded by Elizabeth Manresa. Check it out!
______________________________________________