Timeless Show at Susan Calloway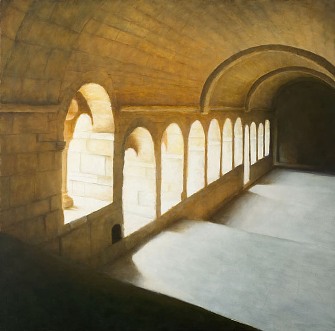 On view from September 14 - October 13, 2012 at Susan Calloway Fine Arts, is Timeless: A joint exhibition of paintings by Kevin Frank and Jonathan Ralston. Both artists create paintings inspired by classicism and realism, while each in his own way imbues his work with a contemporary sensibility, maintaining a delicate and masterful balance between the old and the new.
Join Susan Calloway for the opening reception on September 14, 2012 from 6:00 – 8:00 pm as part of the Georgetown Galleries on Book Hill's Autumn Kick-Off.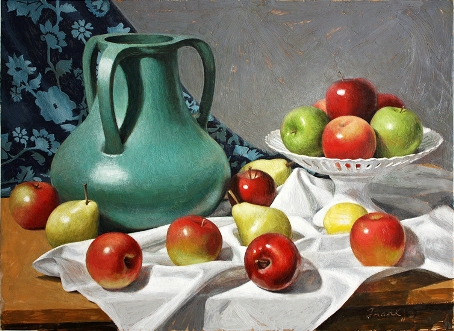 Kevin Frank:
Joanne Mattera, author of The Art of Encaustic Painting: Contemporary Expression in the Ancient Medium of Pigmented Wax, writes that Kevin Frank's still-lifes, modest in size and large in beauty, are nestled conceptually into the folds of the 18th Century. At the same time, his mix of symbolic objects with the unexpected is unmistakably new. His still-lifes resonate with formal simplicity, balanced composition, and poised stillness - as do his urban landscapes.
That Frank works in encaustic - pigmented wax applied in its molten state - is another anachronism. The medium of the "Fayums," the Greco-Roman burial portraits unearthed in and around Egypt's Fayum oasis in the 1850s, encaustic has long been replaced by oil, which is far less labor-intensive. Encaustic art has seen a resurgence since the 1990s, but primarily in abstract work. In his finely rendered representational images, Frank pushes this ancient medium's limits to new and unusual heights.
In recent years, Frank has developed a reputation as being one of the most highly respected contemporary encaustic painters in the world. Since earning a BFA in drawing and painting from Carnegie Mellon University in 1983, he has continually painted, as well as maintained a full-time job in television. He worked as graphics director for The Tonight Show with Conan O'Brien as well as graphic designer for Saturday Night Live and Late Night with Conan O'Brien. He is now based in New York's Hudson Valley, where he paints full time.
Jonathan Ralston:
For Jonathan Ralston, architecture is a primal element of human existence, as we interact with buildings every day of our lives. The buildings people choose to erect and inhabit define both individuals and societies. The exploration of architecture is therefore an exploration of self. Jonathan Ralston has traveled extensively around the world in order to seek architectural references: "When I look at these buildings, I see the continuum of time and form. I am always aware of those who have been there before - from those who dream it, those who built it, those who used it and those, now and future, who will experience it. I am fascinated by the patterns created in architecture, the repetition of elements, how one shape leads to another." Ralston chooses to paint these spaces by focusing on one particular combination of elements. "I look for confined, intriguing perspectives that represent the physical and ethereal essence of that space. I try to distill a small section from the architectural scene, which to me defines the whole space. These cropped sections hold the emotional content." Ralston cites the Dutch masters, particularly Rembrandt, as having influenced his approach to light and color.
Ralston graduated from Wheaton College, MA, in 1992 and has participated in both solo and group exhibitions along the East Coast. Ralston was recently featured in the book 100 Boston Painters, by Chawky Frenn.
Susan Calloway Fine Arts is located at 1643 Wisconsin Avenue. Tel: 202.965.4601