As Time Goes By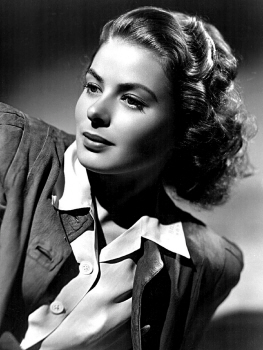 The three faces of Ingrid Bergman: "I didn't do anything I've never done before. But when the camera moves in on the Bergman face, and she's saying she loves you, it would make anybody look romantic." Humphrey Bogart. "In my whole life I never had a woman so much in love with me as Ingrid was. The day after the picture (Saratoga Trunk) ended, I couldn't get her on the phone." Gary Cooper. "I'm only interested in two kinds of people, those who can entertain me and those who can advance my career." Ingrid Bergman.
his weekend, The Embassy of Sweden hosted multiple events in her honor to celebrate her Life & Legacy at the House of Sweden in Georgetown with two new exhibitions. Saturday marked the Bergman Centennial. One of the world's greatest actresses of all time, she was both beloved and controversial. She was seen as both a role model and a danger to the morals of society of the times.
While Leamer was finishing up the touches on As Time Goes By that would become a best-seller, I was a guest in his home in Santa Monica. There was lots of anticipation as Dr. Petter Lindstrom, the Swedish surgeon whom actress Ingrid Bergman abandoned for a scandalous affair with and subsequent marriage to Italian director Roberto Rossellini and the father of her first child Pia, was expected for breakfast and Leamer wasn't sure if he would show up. He did and related how the marriage ended in a firestorm of scandal: Her fans were horrified. The affair was even denounced from the floor of the U.S. Senate.