Thirteen Days on the Norwegian EPIC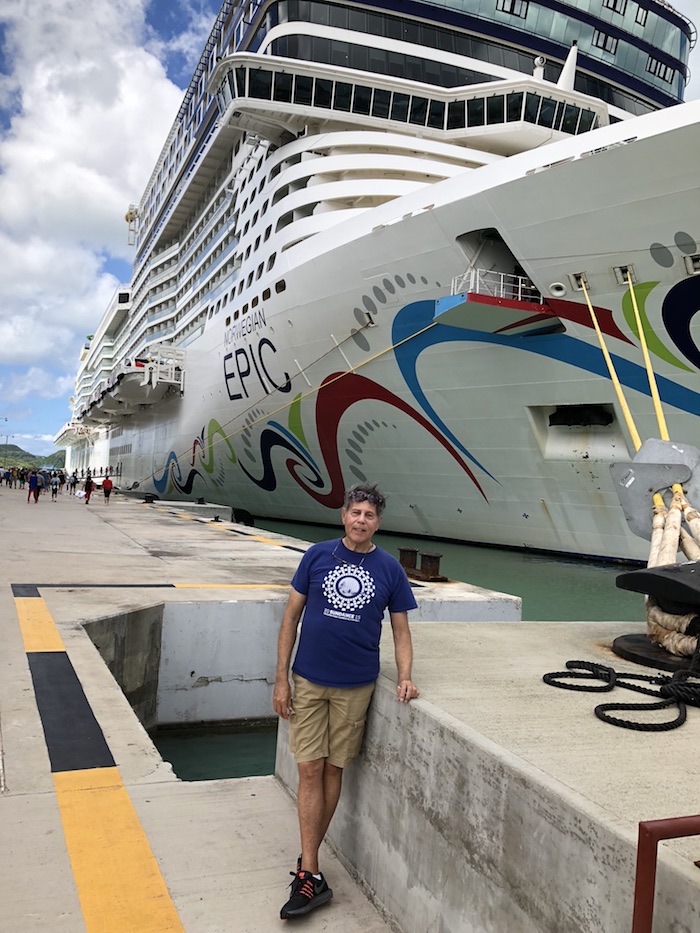 Being spoiled for thirteen days on the Norwegian EPIC from Barcelona to Port Canaveral, FL can be considered decadent. Continental breakfast delivered to the room each morning; a friendly and efficient cabin steward, Charlton, replacing towels twice a day and leaving towel animals on the bed each evening; great meals including seven specialty restaurants; and fun entertainment in an abundance of outlets all coordinated by cruise director, André Gaffney. This all led by a top-notch hotel director Nelson Martins and his secretary Vina Alvarado.
There is nothing like waking up to a beautiful sunrise and then enjoying a drink each evening watching a beautiful sunset. There were a host of talented performers on the ship none better than the cast of "Priscilla" the show based on the movie Priscilla Queen of the Desert. The three stars of the show, Rohan Seinor as Bernadette, Phillip Schnetler as Felicia and Joe Dinn as Tick were uniformly great. Other cast standouts were Darrel Blackburn as Bob and ensemble members Ashley "Ash" Roussety, Jacob Bivens and Adam Tabellija. Many of us went to see the show twice and were just as blown away the second time.
Going on this cruise was a last minute decision for me. At the Human Rights Campaign Gala in DC I bumped into Scott Moster and his husband Dustin Ruffatto. Scott is the travel agent who booked my cruise through the Panama Canal on the Norwegian Bliss. He said "Have I got a deal for you" and it turned out he did. A balcony cabin for two could be had for less than $2,000 including an unlimited drink package and all gratuities. For deals like this email him at scott@myluxcruise.com. He just about has me convinced to join him on a nine day Baltic cruise in June.
On this cruise he twice invited all his clients, many like me have become friends, to sailaway parties in his suite including champagne and Hor d'oeuvres. On another evening he and Dustin lent their suite for the evening to two very sweet, handsome guys from Anschede, Netherlands. They did that so Siebren Mossel could surprise his boyfriend Arjan Bremer with a beautiful dinner where he then proposed to him. No surprise to anyone who knows them Arjan said yes. As it turned out they weren't the only guys to get engaged on this cruise. Guess it is easy to feel romantic out in the middle of the Atlantic with champagne flowing and the stars shining overhead. The other charming and handsome Dutch couple who got engaged are Kevin Rietveld and Matthijs Hagedoorn. We all toasted both couples wishing them long happy, healthy, lives together.
Cruising is often a form of escapism where you can forget the real world exists. On this cruise the real world did occasionally intervene. It surprised me how many people from around the world wanted to talk about the American midterm elections which occurred while we were at sea. Every American I met had voted before they left home. Some of the guys I met had been on a similar cruise when Hillary lost the Presidency in 2016. They like me were hoping not to repeat that depressing night. Since the time difference was four hours it was late night by the time we could get results either online or from the three news stations on the ship's TV; BBC, MSNBC and FOX.
So I and many others decided instead of staying up late we would wake up early to get the results. No sense possibly getting depressed and also going without sleep. So the morning of November 7th as we cruised into Madeira, Portugal, there was great excitement, and it wasn't only among Americans, when it became clear Democrats had won big. The excitement and conversations continued over the next few days as the Democratic blue wave rolled on.
The Captain handled a threatened tropical storm well when he decided to change one of our stops at the last moment from St. Maarten to Antigua and we ended up with great weather. Some members of the LGBTQ+ community on the ship shared information that sexual activity between same-sex partners is punishable by up to fifteen years in prison. Some wouldn't go ashore while others made a point of going ashore and exploring the beautiful island.
The next day we docked as scheduled in St. Thomas, the American Virgin Islands, where everyone went through immigration as it was the first American port we reached. It took a few hours to get nearly 4,000 passengers and 1700 crew processed but it went smoothly and the weather in St. Thomas was bright sunshine, hot and humid. There were two other mega-ships lined up at the dock along with the EPIC. Then it was two more days at sea to Port Canaveral.
*/
As my cruise came to an end I began to dream of my next one. As many have said, "Take your first cruise and you become addicted". It happened to me.