Test scores give mixed view of achievements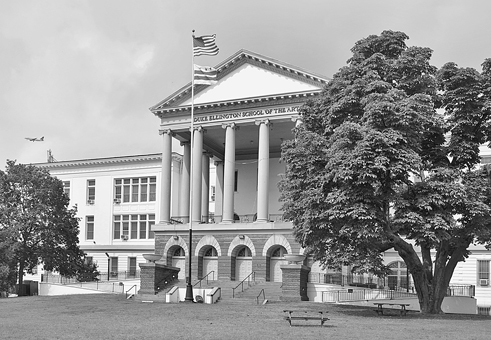 By Jessica Gould...Current Staff Writer...
The school-by-school results of the D.C. Comprehensive Assessment System showed some dramatic gains among Northwest schools, as well as some significant losses.
Meanwhile, certain schools that already had strong scores managed to boost results enough to qualify for the "adequate yearly progress" designation established under the federal No Child Left Behind Act.
Specialty secondary schools -- including Duke Ellington School of the Arts and McKinley Technology -- made big leaps, while School Without Walls, which already had high scores, also saw an increase.
At Burleith's Ellington, principal Rory Pullens said teachers worked hard to boost student scores by studying their strengths and weaknesses through interim assessments.
In addition, he said, struggling students attend a four-week summer program designed to boost their skills, and new students all attend a one-week camp in West Virginia to build strong relationships with teachers.
Furthermore, students from George Washington and Georgetown universities provide tutoring for students, and the school maintains a multi-tiered intervention program for students in need.
"As much as we are all pleased about our growth, we recognize that a school's success cannot be adequately measured by test scores alone," he wrote in an email. "This is just part of what we do, but in whatever we do, we try to do with an Ellington flair!"
Meanwhile, at Foggy Bottom's Walls, parents touted the continued success of a school that won a national Blue Ribbon Award for achievement last year.
"To improve on those high levels is a testament to our students, teachers, and administrative staff," Linwood Jolly, president of the school's parent association, said in a statement.
"Yet we are not stopping here or content to rest on our laurels," he said.
Terry Lynch, vice president of the parents' association, noted that the gains come as the school and several others across the District prepare for a reduced budget. "I am confident that together as a team we will work to overcome the hurdles presented to us and continue to excel," he said.
In the West End, Francis-Stevens Education Campus, which has undergone major physical and programmatic restructuring over the past three years, also saw large gains among elementary students.
Scores at comprehensive high schools Coolidge and Roosevelt saw large drops.
Wilson High School, which operated in temporary digs at the University of the District of Columbia last year, saw scores increase only slightly in reading and plunge in math. The school demonstrated notable gains in reading among Hispanic students but a stark decline in math proficiency across the board.
Janet Alexander, lead teacher at Wilson, called the scores "a wake-up call." She said the school has resources in place to boost the scores, including "teachers, a beautiful facility, and a principal with the commitment to take us where we need to go."
"Now," she said, "it's about execution."
On the elementary level, Janney, Key, Oyster and Mann made adequate yearly progress in both math and reading. For some, the gains were across the board. Others benefited from progress among the racial and ethnic subgroups measured by No Child Left Behind.
For instance, at Oyster Elementary all subgroups measured under No Child Left Behind saw significant gains in reading and math, pushing the school to make adequate yearly progress in both subjects.
Meanwhile, at Janney, black students made large jumps in both reading and math. But white students held steady in reading and posted a decline in math.
Taken together, the 2011 citywide results offered a mixed portrait of D.C. Public Schools' achievement, with slightly more secondary school students scoring proficient in math and reading compared with 2010, and slightly fewer elementary school students scoring proficient in either subject.
Charter schools showed more progress. According to a release from the D.C. Public Charter School Board, a majority of local charter schools made gains over last year's scores.
"This year's standardized tests in math and reading show that D.C.'s public charter schools continue to raise the bar in increasing student proficiency," said Naomi Rubin DeVeaux, deputy director at Friends of Choice in Urban Schools (FOCUS).
At Capital City Public Charter School in Columbia Heights, for instance, elementary school students saw increases in reading and math of four and five points respectively. Upper school students saw gains in reading and math of three and six points respectively.
Petworth's E.L. Haynes, on the other hand, saw an increase in math scores and a drop in reading.
Charters are also beating traditional public schools in another category, DeVeaux wrote in an email. "The data also show that charters also are ahead of the curve in cutting the achievement gap between African-American students and their white peers which has plagued the city for decades. The gap between these students in D.C. charters fell from 46 to 38 percent in reading and from 44 to 37 percent in math. In D.C.P.S. this year the achievement gap increased from 51 to 52 percent in both reading and math."
The individual school scores -- which measure achievement toward the goals set forth in the federal No Child Left Behind Act -- came out only days before an announcement on Monday that the Obama Administration would be allowing school districts new flexibility in meeting the mandates of the law. The law currently requires all students to be proficient in both reading and math by 2014, but critics have said that goal is unreasonable, and the punishments for failing to meet benchmarks are too harsh. The specifics of the president's package will be made public in September, according to a U.S. Department of Education news release.
This article appears in the Aug. 10 issue of The Georgetown Current newspaper.