Terra sworn in as new chair of D.C. Arts and Humanities Commission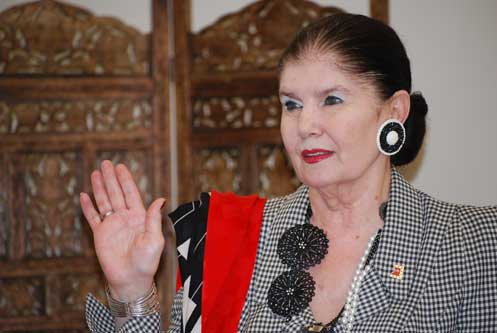 Judith Terra, an arts and civic activist, was sworn in Wednesday as chair of the Commission on the Arts and Humanities. The chairmanship is a non-paying post but comes with high recognition in the creative communities. It also carries clout as to the shape and destiny of many innovative and artistic projects in the District.
Terra, a former Georgetown resident, resides in the city's Crestwood neighborhood. She was appointed to the chairmanship by Mayor Vincent Gray and confirmed by the City Council. She was serving as a commission member under appointment from former mayor Adrian Fenty.
"We on the commission will do what we humanly can to help create jobs, educational opportunities, fresh ideas, and a new spirit of enthusiasm for the District's creative economy," Terra told The Georgetown Dish.
"As chair, I will be a proud ambassador to the arts, humanities, entertainment, fashion, hospitality and related communities throughout the District's wards and communities, and to individuals and organizations working at every level. I seek to serve them all equally and well.
"We also must reach out to others beyond the boundaries of the District as well as reach out to the international communities to determine how we can work together to create opportunities that will benefit everyone," said Terra.
She succeeds Kalorama resident Anne Ashmore-Hudson as chair.
Ronald R. Collins, director of the D.C. Office of Boards and Commissions, swore Terra into the post. Gretchen B. Wharton also was sworn in as commission member. Among those attending the ceremonies at City Hall were arts commission members Rhona Wolfe Friedman and Lavinia Wohlfarth.
The commission, primarily supported by the District government funds and in part by the National Endowment for the Arts, provides grant funds, programs and educational activities that encourage diverse artistic expressions and learning opportunities so that all residents and visitors can experience the culture of the city.
Terra is the widow of Chicago businessman Daniel J. Terra, a major philanthropist and arts lover who served as Ambassador at Large for Cultural Affairs in the Reagan Administration. Together the Terras founded museums that exhibit American artists.
Terra was one of the first supporters of Gray's mayoralty campaign bid. She hosted the kickoff fundraiser for him at her home. Terra served on Gray's Campaign Finance Committee.
Recently, Terra co-chaired several fundraisers, including for Covenant House Washington and for the University of the District of Columbia.