Tech-savvy Broker Reinvents Real Estate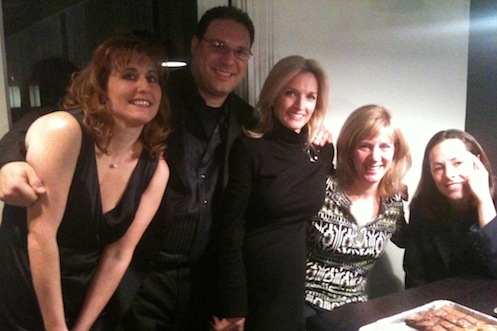 If you saw him on the street, dressed in black with artsy spectacles he occasionally pushes toward the bridge of his nose, Darrin Friedman might strike you as a mild-mannered interior designer. Or a young advertising exec.
But what Friedman, 35, has launched is nothing less than a top-to-bottom redesign of an entire industry - the real estate business. His efforts are already sending shockwaves across the region and beyond.
"When I took over this office in January 2007," he says, referring to the Coldwell Banker outpost he runs on Wisconsin Ave. north of Georgetown, "We were at the bottom of the bottom in every category. We built this office from the ashes. Now we're outpacing much of the competition. And we're just getting started."
Getting started indeed. In 2009, Friedman's branch closed 32% more deals than the year before. In December, with fewer agents than most offices, the branch initiated more sales than any other Washington area Coldwell Banker office.
Friedman, the brance Vice President, waves his hand across his newly redesigned office at a launch party Wednesday, with its luminescent video wall, curved desks and minimalist aesthetic. There are no papers in sight. There is no clutter. It's less office, more New York designer's loft.
Friedman is working the room as well as Bill Clinton. Hugs are dispersed. When you talk, he listens -- hard. But in looks and feeling, he reminds you of Cecil B. de Mille. On the set.
With a sweep of the arm or a tilt of the head as punctuation, Friedman is speaking passionately. "Now we have a physical representation of our business model. That means the world to me," he says. "It's who we are -- the most innovative office anywhere, in terms of how we do our business and how we service our clients."
How does one do real estate differently? "It's everything from our blogging presence, social media, our involvement with other national innovators, and the advice we give our clients," he says. According to Friedman, the internet has radically changed the business, and those who don't embrace it fully will be crushed by the technology tsunami.
"Eighty-seven percent of buyers start their search for a home or a realtor online," Friedman continues, speaking in impossibly complete, rapid-fire sentences. "But most of the time, there is not an adequate online presence or social media vertical used to promote the property correctly."
With so much activity online, Friedman explains, if a property is not adequately marketed on the internet, using photos, videos, and social media, it just won't get noticed.
"I feel that in Georgetown, Foxhall, anywhere," he continues, "it doesn't matter if you have a $9 million or a $1 million home -- if the house isn't selling, you are not beeing guided correctly" by your real estate agent.
Friedman's comments seem accutely relevant in Georgetown, where sales have slowed to a trickle compared to previous years.
City-wide, Friedman's office closes more relocation business than another other Washington area branch. "We're not afraid of the big boys," he says.
But the tough talk and big ambition have a soft side. "Darrin treats you like a partner," says agent Mandy Hursen, a highly-regarded top performer who came over from Long & Foster to work with Friedman. "He gets involved and helps you. I've never experienced that in a real estate office before." Hursen has six homes under contract -- contracts written since the first of the year.
Friedman is getting recognized. He was one of five realtors in the nation nominated for the National Association of Realtors Technology Spotlight Award. "I didn't get it," he frowns. But that doesn't seem to be slowing him down.
"Some people will say that social media doesn't work to sell a $5 million home. My office has a $2.5 million listing. Through social media, and getting the word out via You Tube and Facebook, the agent now has five new clients who want to buy in that neighborhood," Friedman says. "It just works."
Once you understand Friedman's premise, you start to wonder why anyone would do real estate the traditional, cumbersome way -- relying on the agent to search the market, with lots of time in a car driving to see properties. "We work in a way that's right now, not yesterday," Friedman says. "Georgetowners understand this in their own businesses, so why wouldn't they do this with their real estate?"
Would it be fair to call the fourth-generation real estate agent a wunderkind? "We're not necessarily younger, but we think younger," he says. "I'm 35 going on 12."