TD Bank heats up D.C. small business lending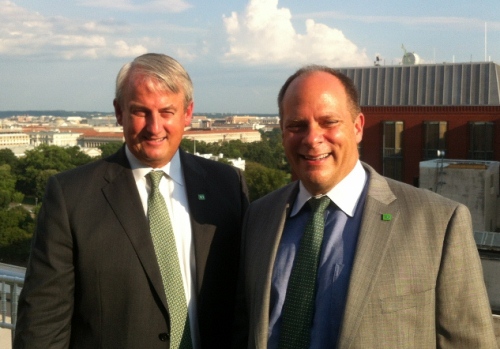 The superlatives were flying Thursday evening as America's "Most Convenient Bank®" – TD Bank – hosted a rooftop reception on one of Washington's greenest buildings with one of the most stunning views in town.
It was hot – but not the hottest – summer evening, featuring a jazz band to help raise the volume announcing TD Bank's stepped-up campaign to increase small business lending in the Washington region. The bank, which is the fourth-largest in North America in terms of deposits, has gone from 0 to 45 branches in greater Washington since 2005. With verve, energy and style, the young company is sprinting to outrun its larger, stodgier competition.
That means seven-day-a-week banking, doors open until 8:00 pm, 24-hour customer service and in-store features such as coin machines for kids, water bowls for dogs, and a carbon-neutral philosophy. Calling the branches "stores," the company embraces a retail, customer-friendly culture.
"It's ultra customer service," said Regional President Brian Monday. "We want you to have a 'wow' experience when you visit."
TD is also leading the industry in integrating service lines to maximize efficiency and capacity for business and personal clients. "It's 1 + 1 = 4," said Senior Vice President Richard Bradshaw, who heads up the SBA division, parachuting in to join Monday, bank clients and the media on the roof of the 17th & H St. branch downtown.
Monday hails from Vienna, where he graduated from Madison High School, not too far from his colleague Terrence Kenny, the Market President for Metro Washington and Baltimore, who grew up in the Maryland suburbs.
Though a southern California native, Bradshaw is not a stranger to Washington. He retired as Commander for the U.S. Navy Reserve after serving five years of active duty as a Captain in the U.S. Air Force. He graduated from the U.S. Air Force Academy and has an MBA from Pepperdine University.
TD Bank just opened another green store in Bowie -- its 70th such location, according to the bank's Cherry Hill, N.J., headquarters. Could it be America's greenest, go-getter bank?