Taste Strawberry Granita at the C.H.O.P. Farmer's Market Friday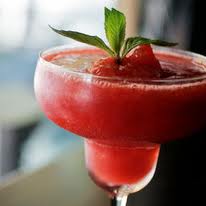 Visit this Friday, May 18th at the Capital Harvest on the Plaza Farmers Market (13th & Pennsylvania Ave, N.W.) noon to 2:00 pm for a free sample of one of the most popular recipes at the market: Strawberry Granita! Excerpted from my book, Diet Simple, a granita is an Italian frozen treat, made with any seasonal fruit. The basic recipe was provided to me by long-time Georgetown resident and friend, Carol Cutler.
I hope to see you at the C.H.O.P. Market, where the mission is to demonstrate just how delicious seasonal, local fruits and vegetables can be. You see, when you buy from local farmers, you're buying fruit picked that very morning, so it is at its peak ripeness, and has maximum flavor and nutritional value. It also means you are buying a superior variety of fruit or vegetable, a variety which may be more tender, flavorful, and juicy, a variety more unique to the region. This saves precious resources using less water, energy, and pesticides - and that's good for the environment.
Strawberry - or Any Fruit - Granita
(excerpted from "Diet Simple: 195 Mental Tricks, Substitutions, Habits & Inspirations" LifeLine Press, 2011)
The best ice cream in the world can be found in Italy, hands down. But much more typical of Italian fare is granita, the wonderfully fresh, flavored ice that is so refreshing after a meal. Here is a granita you can whip up in a flash, and at any time of the year. Even though it is based on frozen strawberries, the taste says "fresh" thanks to the helpful addition of orange flavoring.
8 servings grated peel and juice of 1 orange (or 1/4 cup of another juice) 2 teaspoons orange liqueur or another liqueur (optional) 20 ounces frozen sweetened or fresh strawberries (or other fruit in season)
Optional: 1 Tablespoon Sugar (if using fresh strawberries), or Splenda Optional: 8 mint sprigs
Put eight small sherbet dishes in the refrigerator to chill. If using fresh berries, place them in the freezer until frozen. Cut the frozen sweetened or unsweetened berries into large-sized chunks and put into a food processor. Add the orange juice, peel, and liqueur. Add sugar or Splenda, if using fresh strawberries and they aren't sweet enough. Pulse for about 30 seconds to break up the chunks, then process on high until the mixture is smooth. When the mixture has been pureed, spoon immediately into the chilled dishes and place in the freezer. If the granita has been frozen for more than six hours, remove it from the freezer 10 minutes before serving time. If desired, decorate with the mint sprigs. (Muffin cup liners can also be used. Fit each one into a cup in the muffin pan and fill to the 3/4 level, the frozen ice will expand. Place immediately into the freezer.)
Per serving: 80 calories, 0 grams fat, 20 grams carbohydrate, 2 grams fiber, 0 mg sodium, 0 grams protein
There are few foods which match the intense color and flavor of berries. Fortunately, they are nutrition superstars. Learn more about the nutritional benefits of berries...