Talking The Talk; Walking The Walk: Establishing A Dialogue With The Arab World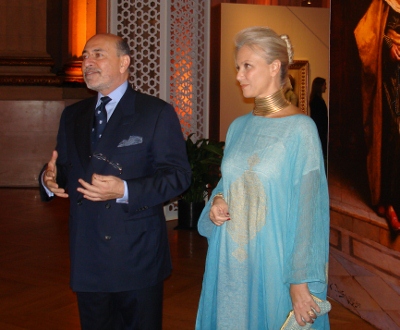 Egyptian mega-investor Shafik Gabr hosted an impressive forum/reception at the Mellon Auditorium Tuesday to advance his hopes of creating a better dialogue between the Arab world and the West through art and face-to-face conversations. His fabulous collection of Orientalist art masterpieces was the visual draw to get people together in person – not just communicating via smartphones and the internet.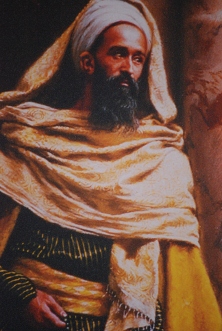 First announced in London on Nov. 15, the Shafik Gabr Foundation will soon provide exchange programs for emerging young leaders (ages 24-30) in the arts, sciences, sports and civil society to travel the world to gain a clearer understanding of one another's way of life and thinking.
At the inaugural event in the UK, former Prime Minister Tony Blair was on hand to underscore the importance of the international initiative.
At the D.C. event on Constitution Avenue, Gabr said his initiative – East-West: The Art of Dialogue -- wants to "inspire young people to talk to each other, and not at each other. Reality, he said, "is not determined on your Blackberry…reality is determined when you are there."
"In today's world, we have instant access to immediate global communications of every type, but even so we don't understand each other," said Gabr. "As a result, I'm afraid we are on a trajectory that can lead to more conflict than resolution. I hope that by giving emerging leaders in the Arab world and the West the opportunity to know each other, and talk to each other, rather than at each other, and collaborate in joint projects that this can create better bridges of understanding….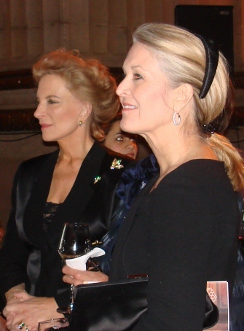 "I am worried that with our fast communications, many times we don't take time to understand the issues."
Among those participating in the forum were Sen. Joseph Lieberman; Rep. Darrell Issa; Admiral William J. Fallon, former commander of U.S. Central Command; Kemal Dervis, vice president and director of Global Economy and Development at Brookings Institution; and Hussein Ibish, senior fellow for American Task Force on Palestine.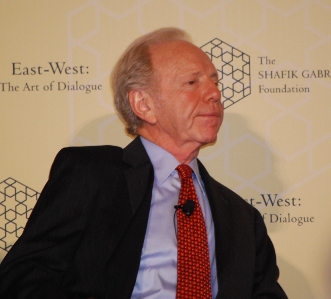 Actor Hussein Fahmy, also a panelist, said that too often, films and the media stereotype cultures. For example, he said Mexicans are portrayed "as lazy" and Iranians as "all assassins…we have to be more tolerant of each other and stop this stereotyping…."
Asked, if given the opportunity, how he would advise Barack Obama, Sen. Lieberman conceded that the President "missed opportunities" and the U.S. government was "much too quiet" during the Arab Spring. "The president has a second chance now…empowered by this election mandate," said Lieberman, who is retiring from the Senate at the start of the year.
Praising the new Gabr initiative, Lieberman said: "As good as the internet is, there's no substitute for an actual exchange of people."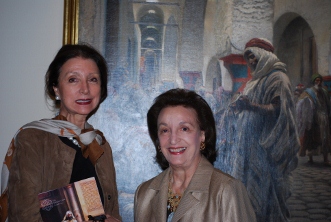 As a young man in Egypt, Gabr recalled the day his father forced him into the world. "My father came into my room and told me I had received my last allowance." So, Gabr said, he started a messenger service on a bike. In the 1980s, he came to the states as a "struggling entrepreneur" and traveled the America's Midwest to build his business and establish lifelong friendships.
Among the several hundred invited guests at the evening reception were Egyptian Ambassador Mohamed M. Tawfik, Her Royal Highness Princess Michael of Kent, political activist Ralph Nader, anti-tax crusader Grover Norquist, Cafe Milano owner Franco Nuschese, protocol ambassador Mrs. Selwa "Lucky" Roosevelt, retailer Iraklis Karabassis, interior designer Aniko Gaal Schott, (who is decorating Mr. and Mrs. Gabr's house in DC), and Walter and Dede Cutler.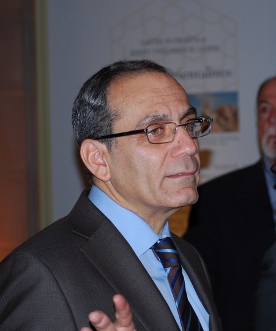 A number of guests in the young adult demographic that Gabr is targeting also attended the morning forum.
Masterpieces from Gabr's collection of Orientalist traveller painters of the 19th and early 20th centuries were on display at the Mellon Auditorium.
"When I look at these paintings, I find a certain dialogue," said the actor Fahmy, "These were the first newsreels coming back to Europe and the West. You could see the body language; you can look in their eyes; you could see the salesmen selling carpets on the street. It was the first dialogue between the East and the West."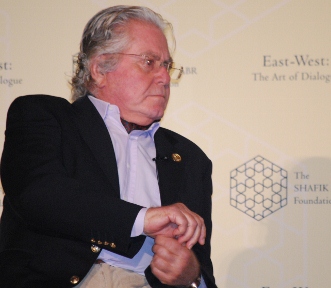 Gabr plans similar conferences in New York, Paris, Istanbul and Cairo. He is chairman and managing director of the ARTOC Group for Investment and Development.