Talking Politics is American on Thanksgiving, say U.S. Leaders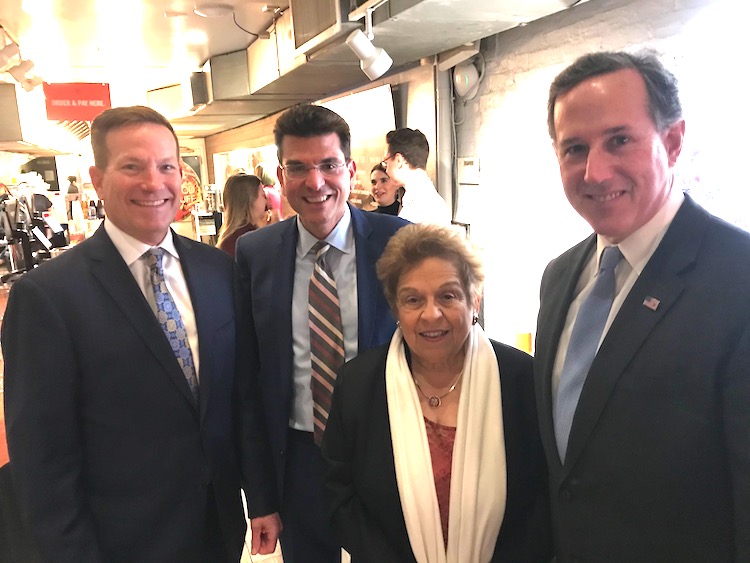 Americans from different generations, geographies and political views will sit down for Thanksgiving dinner this Thursday. Most will seek to avoid politics. Jason Grumet, CEO of the D.C.-based Bipartisan Policy Center (BPC), suggests a different approach -- to bring together our most opinionated family and friends -- from Green New Dealers to MAGA enthusiasts -- around the ideas that unite us all as Americans. The group has provided a Thanksgiving Survival Guide. We caught up with Jason before a recent pre-Thanksgiving try-out of leaders of divergent political views, to see how it might work.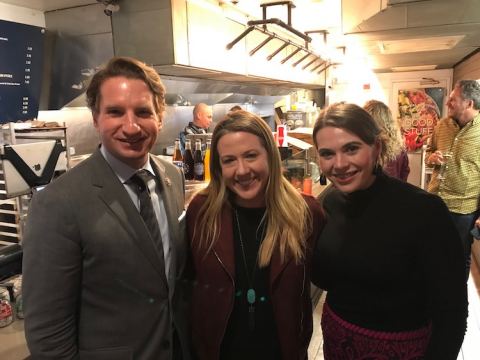 How did you get here?
I'm a middle child, which is probably the essence of why I created the Bipartisan Policy Center.
What's the worst thing that can happen at the Thanksgiving table?
The worst thing that can happen tonight is that people are so beleaguered from what's happening that they just can't have fun. They just can't overcome the sense of hurt that so many people are feeling. And if I said, "Who's got something lovely to say?" there would be this dull silence. I think the chances of that are very, very slim, but that would be the worst.
Are you serving alcohol?
Oh, sure.
Are you worried about America's dining tables this Thanksgiving?
Yeah. There's a lightheartedness to tonight's event, but the actual premise is the concern that we're so sorted as a country -- econmically, geographically, gender, generationally -- that Thanksgiving is the only time people actually sit across from each other at a table with people who are not already part of their little club. So with all the emotion driving through the system right now, I think there is this sense that people shouldn't talk about politics this Thanksgiving. Our view is that if you can't talk about the issues you care about with the people you care about, it's hard to imagine that the political system is going to do any better.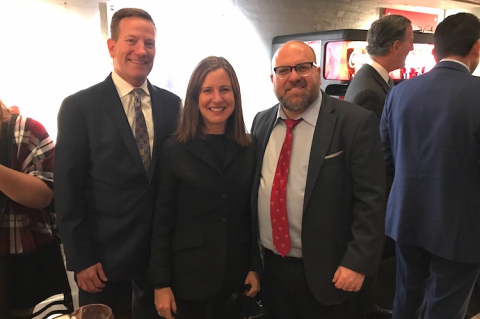 So you want people to talk about politics at Thanksgiving?
Absolutely.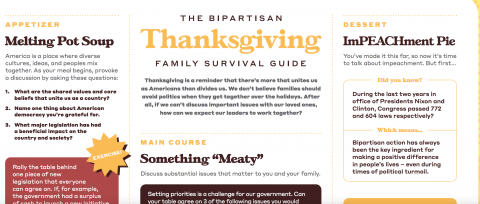 During any specific course?
We've put together this Thanksgiving survival guide which people can refer to and it basically tries to provide some lighthearted entry points with some trivia about Thanksgiving and some political facts. We have a word search. I want the six-year-olds to say, "Mommy, what does emoluments mean?" We basically talk about thinking as a family or a table -- when you say you're "thankful" for America, what does that really mean? That's not a bad place to start.
I notice you've emphasized the "peach" in "The ImPEACHment Pie."
It's a peach pie.
Are you fans of peach pie or is this just about impeachment?
I'm a huge fan of peach pie.
Do you favor it over pumpkin pie?
They're not even the same thing. They're both pies but they're not even in the same food group. I like them both. I would go strawberry-rhubarb if given the choice.
Very interesting. For you personally, what are your favorite Thanksgiving foods?
I like cranberry sauce out of the can.
You do?
I do. I like that noise that I can't quite make when it comes out of the can. That sound and the sound of opening a can of tennis balls are the two best can-related noises.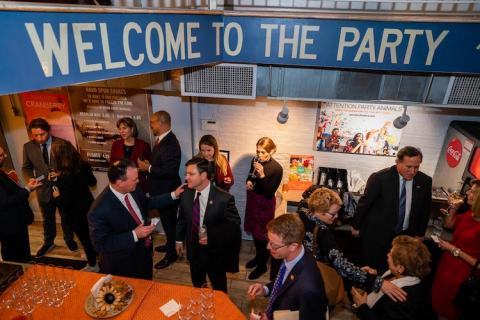 That's a very interesting observation. Any other particular favorites?
Everyone remembers what their grandma made, but the sweet potatos with pineapple and marshmallows melted on top stands out in my mind.
You're bringing back memories. I wonder if it's a New York thing.
This was Brooklyn. Another thing I remember about my grandmother's cooking -- incredible amounts of butter. Fried everything.
This might be a key to peacemaking in America. But tell us, why should people talk politics on Thanksgiving?
Thanksgiving has played a key role in drawing our country together at times of division. In his first year in office, President George Washington proclaimed thanksgiving a national day of reflection and called upon the fragile Union to give thanks for the newly ratified constitution. In the midst of the Civil War, President Abraham Lincoln made thanksgiving a national holiday beseeching the nation to heal its deep wounds. Today, our democracy is again challenged by division and alienation. In a participatory democracy, civility is a national obligation and we all have a role to play.
That's deep. So what do we do?
When giving thanks this year, we hope that families will take a look at our Thanksgiving survival guide and discuss the core American values that protect our liberty and draw strength from our diversity.
That's a tall order, but worth a try.
Here is a full list of those who attended this inspirational Thanksgiving. Blessings to all!
Jason Grumet | President, Bipartisan Policy Center
Spike Mendelsohn | Owner and Chef, Good Stuff Eatery
Rep. Jack Bergman | U.S. Representative, MI-1
Rep. Alan Lowenthal | U.S. Representative, CA-47
Rep. Derek Kilmer | U.S. Representative, WA-6
Rep. Donna Shalala | U.S. Representative, FL-27
Rep. Jared Huffman | U.S. Representative, CA-2
Rep. Dean Phillips | U.S. Representative, MN-3
Rep. Chrissy Houlahan | U.S. Representative, PA-6
Rep. Josh Gottheimer | U.S. Representative, NJ-5
Rep. Mike Johnson | U.S. Representative, LA-4
Sen. Chris Dodd | Senior Counsel, Arnold and Porter; former U.S. Senator, Connecticut
Sen. Rick Santorum | former Senator, Pennsylvania
Sen. Byron Dorgan | Senior Policy Advisor, Arent Fox; former U.S. Senator, North Dakota
Kimberly Olson Dorgan | Board Chair, BPC Action
David Hinson | President and CEO, Congressional Black Caucus Foundation
Rick Dearborn | Partner, Cypress Group; former senior White House aide
Patrick Steel | CEO, POLITICO
Nina Totenberg | Legal Affairs Correspondent, NPR
Kevin Cirilli | Chief Washington Correspondent, Bloomberg TV
Sabrina Medora | Founder, Un-Plated
David Reines, M.D. | Former Vice Chair, Inova Fairfax Hospital (+1 Totenberg)
Deborah Malumed, M.D. | Family medicine specialist (+1 Lowenthal)
Michele Stockwell | Executive Director, BPC Action
John Richter | Director, Bipartisan Policy Center Congress Project
David Lapan | Vice President of Communications, Bipartisan Policy Center