Take Me Out to the Ball Game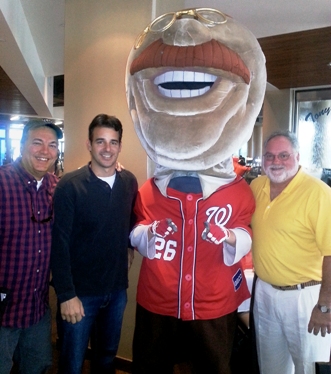 Take me out to the ball game. Take me out to the crowd ... but, if you don't have access to the hottest tickets in town- don't worry, you can watch the Washington Nationals Playoff series against St.Louis and enjoy the waterfront while taking advantage of half-priced beer and appetizers and $2 hot dogs during the game.
You can catch all the playoff action at Tony and Joe's and Nick's Riverside Grille any day that Washington Nats are in the playoffs and when the game's over, stay for dinner and watch the sunset in one of the most beautiful settings in town. Game time on Wednesday, October 10 is 1:00 pm, on Thursday, October 11 is 4:07 pm.
"The Washington Nationals management asked the Downtown D.C. BID to partner with them in showing citywide support for the Nationals post season," says Victoria Michael, PR consultant to the Nats, and of course Tony and Joe's and Nick's Riverside Grille jumped at the chance to be involved with all things Nationals!"
And you never know who might stop in during the game- last Sunday, Teddy himself came by to run a victory lap around the Waterfront fountain as the most recent winner of the Nationals' Presidential Races.
So much is happening now down at Washington Harbour with the long awaited opening of the Ice Rink in the beginning of December and the restoration of the restaurants on the waterfront with new interior design and a new chef. Arguably it looks like the Washington Harbour is going to be THE place to be in Washington.
Written by Janice Ockershausen, owner of Best Bark Media