Syrian Refugee Musician and Three Honorees in Points of Light Gala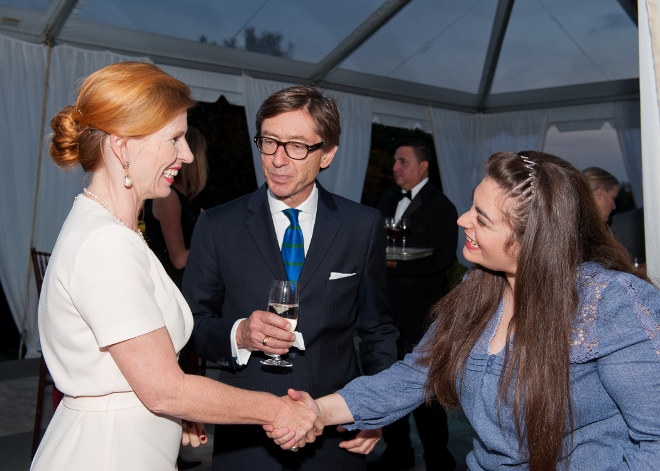 A young violinist who is a refugee from Aleppo, Syria, and three young women who work to make life better for others were spotlighted at the Points of Light 2016 gala at the German ambassador's residence Thursday night on Foxhall Road.
The evening's special guest entertainer was Mariela Shaker, 26, a virtuoso violinist who, to escape the civil war, fled her country carrying a violin case that was mistaken for a gun case at checkpoints.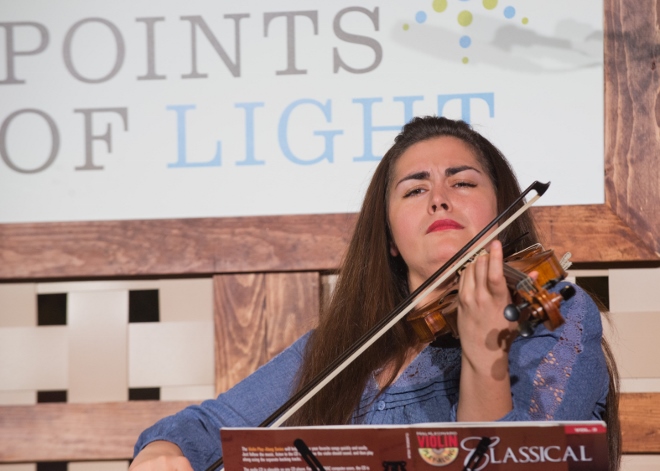 At the residence, she expressed gratitude to both Germany and America for all they do to help the Syrian people.
"It is a great occasion to thank the German ambassador for the huge help and support of Germany in welcoming hundreds of thousands of Syrian refugees" she said.
"Germany has given the world an example of humanity. There are not enough words to express our gratitude and appreciation.
"I feel powerless to change the current tragedy ongoing in my beloved country. However, I believe so much in the power of music to remove all barriers between people and nations. It is the bridge which has brought me to the U.S. I will keep performing to tell the story of my suffering people and country. May this music help healing the pain our world has felt and create a peace platform for everyone."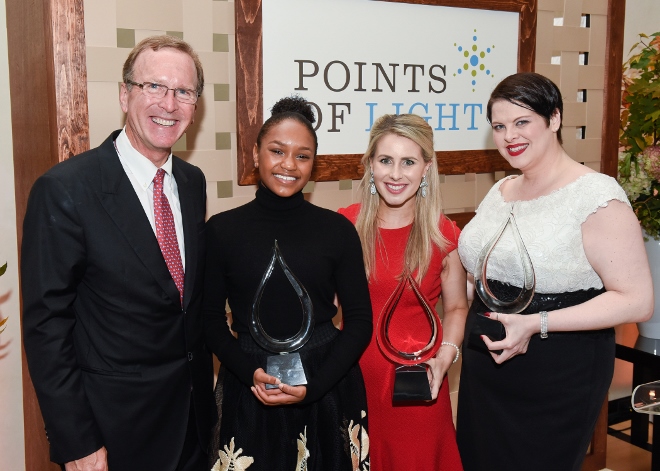 Shaker started playing the violin at age 10 when she joined the Arabic Institute of Music in Aleppo. Her parents and brother remain in Aleppo. She has performed at a United Nations concert at the Kennedy Center and has been honored at the White House as a "champion of change" on refugee issues.
Points of Light, the world's largest organization dedicated to volunteer service, was inspired by President George H.W. Bush. It mobilizes millions of people worldwide to take action that is changing the world.
The event was under the patronage of Ambassador Peter Wittig, and Mrs. Huberta von Voss-Wittig.
One of the president's sons, Neil Bush, chairman of the Points of Light board of directors, presented awards to the following honorees: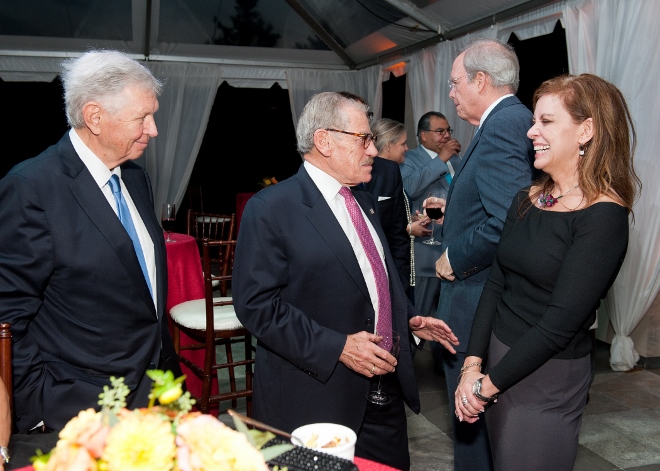 Actor and dancer Eden Duncan-Smith. A native of Brooklyn, N.Y., Eden, 16, was honored for her efforts to promote universal equality and peace. Her many activities included organizing efforts in the Bring Back Our Girls initiative, when 276 girls were kidnapped from their school in Nigeria and forced into slavery by the Boko Haram. While still a pre-teen, she appeared in Tony Award-winning playwright August Wilson's Fences and in the long-running The Lion King. Her godparents are R&B singer Lauryn Hill and Rohan Marley, son of Bob Marley, the reggae legend.
Kimberly Holder. She volunteers through New York Cares, a Points of Light affiliate, and the largest organization in New York City that mobilizes volunteers and serves more than 400,000 people in need. Over the last six years, Kimberly has worked on more than 145 projects serving a variety of residents in NYC – seniors at Lott Assisted Living; the homeless children at Clinton Family Inn. She is featured in the November issue of Good Housekeeping magazine in an article that celebrates inspiring women who volunteer.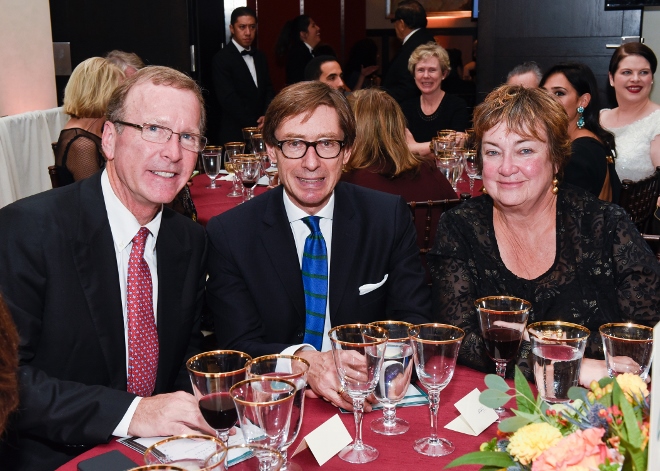 Haley Kilpatrick. Founder and CEO of the national nonprofit organization Girl Talk Inc., which seeks to inspire all girls to develop the confidence to lead. She has been named one of Glamour Magazine's "20 Young Women Changing the World Now," and People Magazine's "All-Star Among us." She lives in Atlanta.
Points of Light was born in 1990 when President Bush beckoned for a new "organization outside of the government to call on all Americans to engage in service and for leaders of other organizations to mobilize their members to serve."
The event host committee included David Abney, Charles E. Agee III, Michelle Bengue and Lawrence E. Bathgate II, Jean Becker, Katie and Phil Brady, Trisha and Jim Cicconi, Jacqueline and Tom Collamore, Debbie and Alan Dunn, Sandy and Wally Ganzi/Palm Restaurants, Edwina and Tom Johnson, Anita and Tim McBride/United Technologies Corporation, Pam Norley and Donn Randall, Julie and Gregg Petersmeyer, and John Schmitz/Prime Policy Group.