Sweet Strawberries! First Fresh & Local Salad of the Season!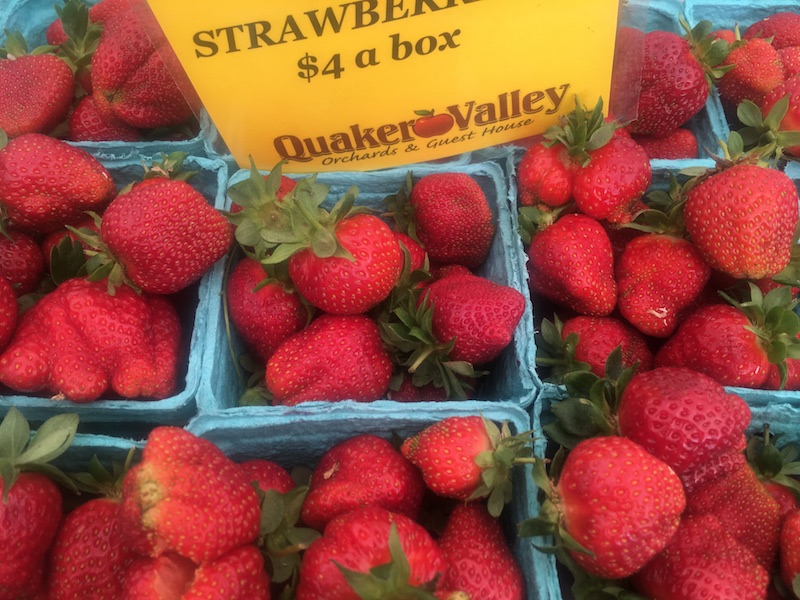 Strawberries! Strawberries! Strawberries! Come get your strawberries! I'm surprised the first strawberries of the season are sweet. I stopped by Quaker Valley Orchards at the Dupont Circle Fresh Farm Market on Sunday (as I always do), tasted one, and the sweet juice ran down my arm - a good sign. Usually the season's first strawberries aren't sweet, but these are - and I recommend them - in case you haven't guessed already. And lucky for us, Quaker Valley also sells their exceptional produce at the Rose Park Farmer's Market on Wednesdays from 3:00 to 7:00 pm.
Of course, most of the strawberries I bought - 8 pints - will be popped into my mouth as is. But, this salad is also a great way to celebrate strawberries.
Mike Gardner's Springtime Strawberry, Goat Cheese and Roasted Almond Salad with a Balsamic Vinaigrette
This is a great salad for a hot day. Let the strawberries sit long enough to absorb the balsamic vinegar flavor while you take time to catch up with friends and enjoy the summer day. Balsamic vinegar is a perfect accompaniment to strawberries (try them on vanilla frozen yogurt). Add the spinach and you have a "salad" you will LOVE (and will love you back with health benefits)!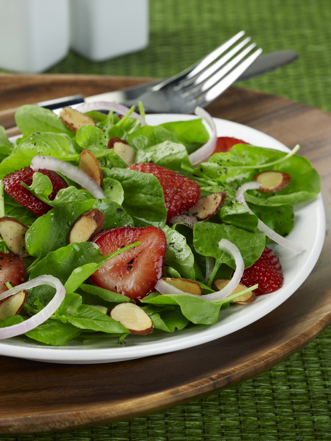 Ingredients For the strawberries:1 pint of ripe strawberries, if they are large, cut them in half1/2-3/4 cup balsamic vinegar For the salad:Baby spinachBaby arugulaGoat cheese crumbles1 small red onion, sliced2 ounce of toasted almonds (Mike doesn't add almonds) For the dressing:3 tbsp balsamic vinegar1 tsp dijon mustard1/4-1/2 cup olive oilsalt and pepper to taste Directions
Prepare the strawberries by placing them into a bowl and add the vinegar. Let them sit for a while to absorb the flavor of the vinegar- an hour or better. This can be done at room temperature
In a separate bowl, make the dressing by combining the vinegar, dijon mustard, salt and pepper. Slowly stream in the olive oil, tasting for flavor balance. If necessary, add additional mustard to taste. When ready to serve, combine equal parts of baby spinach and arugula. Add in the sliced red onion, and lightly toss the salad with a small amount of dressing, adding more as necessary slowly dressing the salad as to not drench it all at once. Add the goat cheese crumbles and almonds. Lastly, plate the salad onto a chilled serving plate. Using a slotted spoon, remove the strawberries from the vinegar and place them on top of the greens. Finally, top with fresh ground pepper and serve.