Sushi Won't Displace Salon at Wisconsin Avenue Site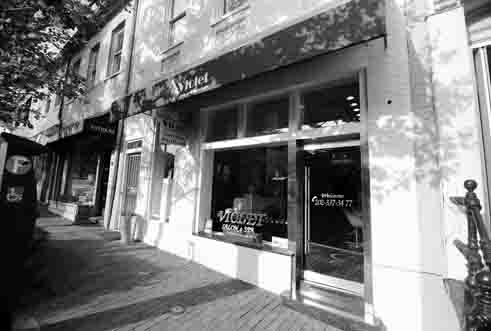 By Katie PearceCurrent Staff Writer
Entrepreneur Steve Mugati is backing away from original plans to use 1513 Wisconsin Ave. to house a new sushi restaurant, next door to his planned teriyaki restaurant.
The Current reported last week on Mugati's vision for two merged Japanese restaurants, which he described to the D.C. Alcoholic Beverage Control Board in July. But after the article came out, representatives of Violet Salon & Spa, the tenant now occupying the ground floor of 1513 Wisconsin, insisted that they weren't moving out, as Mugati's statements had suggested.
Mugati, who has owned the Georgetown building for less than two years, clarified the situation over the phone this week. He said he is "not going to proceed with my project" now that he knows for certain Violet Salon wants to stay put. "They weren't sure before," he said. "Now they're sure."
"They've been great tenants; they have a wonderful business," he added. "I'd love for them to stick around."
Violet Salon has been in place there since 2005, according to manager Sandra Patterson. She said the business has a 10-year lease for the space, with the option to renew in another five years.
Mugati has plucked former Sushi-Ko chef Koji Terano to helm both the sushi place and the planned "Yakitori" restaurant at 1515 Wisconsin, serving a distinct style of skewered chicken.
Though he said it would be ideal for the two restaurants to operate side by side, he's now looking at other properties in Georgetown for the sushi spot.
In particular, Mugati is zeroing in on a property he owns at 3073 Canal St., which already hosts a sushi to-go place. The idea would be to transform that operation into a more upscale restaurant, he said.
Mugati said the "Yakitori" plan is still on for the 1515 Wisconsin property, which he has owned for about a decade. He said the current tenant there, John Rosselli Antiques, also has the option to renew its lease, but plans to move out.
Mugati said he has also looked into putting the sushi restaurant on the second floor of the neighboring property, above Violet Salon, but it doesn't seem feasible. "The more I look at it, I just don't see that being a great location up top," he said.
This article appears in the Aug. 27 issue of The Georgetown Current newspaper.