Sunday Supper Club at Juniper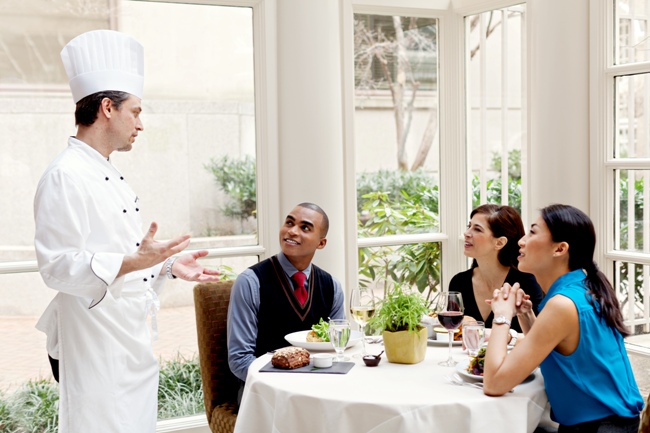 Juniper Restaurant is launching a Sunday Supper Club that will feature a 3 for $30 dinner special from 6:30 pm to 10:30 pm every Sunday evening starting April 14, 2013.
Inspired by local favorites, Executive Chef Mark Timms and Restaurant Chef Ian Bens will offer an artfully prepared choice of appetizers, entrées and a selection of libations. Spending much of their time sourcing the freshest ingredients at nearby farmers markets, they celebrate the region's best ingredients for guests. Taking local to the next level, herbs grown in Juniper's own garden and honey harvested from the rooftop hives are used in many soups, salads, sauces and desserts. Chef Timms and Bens look forward to welcoming guests to their "Sunday Supper Club." They will spend time chatting with guests about recipes, the rooftop honeybees and local food trends.
While the 3 for $30 menu will change weekly, some examples include:
Appetizers
Rockfish Fritter, Asparagus Risotto, Meyer Lemon Gastrique or
Pennsylvania Beet Terrine with Horseradish Ice Cream or
Maryland Crab Soup, Jumbo Lump Crab, Old Bay Broth
Main Courses
Crispy Soft Shell Crab, Watercress Aioli, Tomato Jam with Jalapenos
Pecan Crusted Deer, Sweet and Sour Rhubarb with Cipollini Onion, Brussels Sprout Leaves
Naked Neck Chicken, Yukon Potatoes with Stinging Nettles, Bay Leaf and Crispy Ham Vinaigrette
Libations
Whites
Domaine Ste. Michelle Brut or
King Estate Pinot Gris or
William Hill Chardonnay
Reds
Anderra Carmenere or
Milbrandt Merlot or
Writers Block Malbec
Beer and Soda
Other
Draft Beer or
House-made Sodas or
Coffee or Tea
Juniper Restaurant is open daily for breakfast lunch and dinner from 6:30 am – 10:30 pm, and is located at 2401 M Street. Sunday's Market Fresh Brunch is served from 11:00 am. until 2:00 pm.
Guests may visit Juniper Restaurant online or call 202.457.5020.