Summer Vacation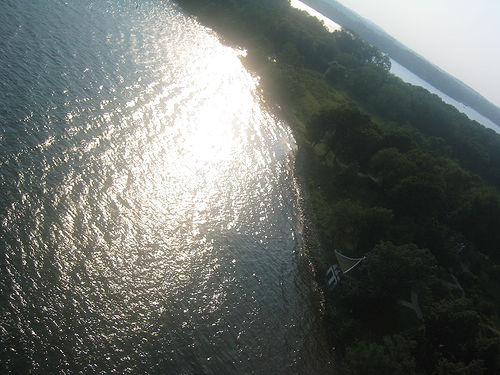 Mine has officially started.
I'm spending the week in my hometown of Minneapolis with family and friends. There is no place I would rather be this time of year than the land of ten thousand lakes. It's the perfect destination for the three essentials of a summer vacation - sun, fun and relaxation. I lounge at my parents', soak in the sun, catch up with the girls and breathe. Not much to it really, but it's always nice to have a plan - if a somewhat loose one - in place. Below are some of the activities I've scheduled for my week in the beautiful "mini apple".
Lake Minnetonka
This vast and intricate chain of bays is a summer must for tourists and natives alike. You can tie up at Big Island, stop for drinks at Lord Fletcher's or simply cruise along while enjoying 100+ miles of beautiful shoreline.
Pool Time
My sun-worshipping days are long gone. I haven't spent committed time in the sun in nearly twenty years. But the rents have a pool with a view of the lake. So really, I'm going to pass up a day of lounging poolside with my ipod, a tall drink and a couple of fashion mags? Puhlease!
Walker Art Center
I haven't been in years, so I plan to spend a day at this world-class museum and adjacent sculpture garden with dinner after at Wolfgang Puck's restaurant 20*21.
Neighborhood Driving Tour
Before I was an adult and a professional interior designer, I was a design voyeur. As a teenager, I loved driving through Minneapolis and its western suburbs soaking in the architecture and atmosphere of the neighborhoods. I haven't done that in years and am looking forward to visiting some of my favorites haunts like Edina, Kenwood and Linwood Hills. I think I foresee a blog post developing out of this.
Lake Calhoun & Lake Harriet
During my high school years many a day, night and weekend were spent at these two lakes. Smaller in size and in the heart of Minneapolis, they're great for all kinds of activities: running, biking, canoeing, volleyball. Plus, the Lake Harriet Bandshell features concerts all summer long, so you can bring a date or the whole family for a picnic under the stars.
Weisman Art Museum
Designed by Frank Gehry and erected in 1993, this iconic steel structure on the University of Minnesota campus is a precursor to the famous Guggenheim in Bilbao, Spain. The only Gehry-designed museum in the United States, it is currently undergoing a major expansion scheduled for completion in 2011.
Girls' Night
My Midwest "besties" and I don't get quality time together but once a year. So when we do, we make it count. There's nothing better than hanging out, sipping cocktails and laughing our a---s off for hours on end.
Hoping you all get the chance to get away, recharge and reconnect with the ones you love!
Tricia xo