Summer Hope: Standing Room Only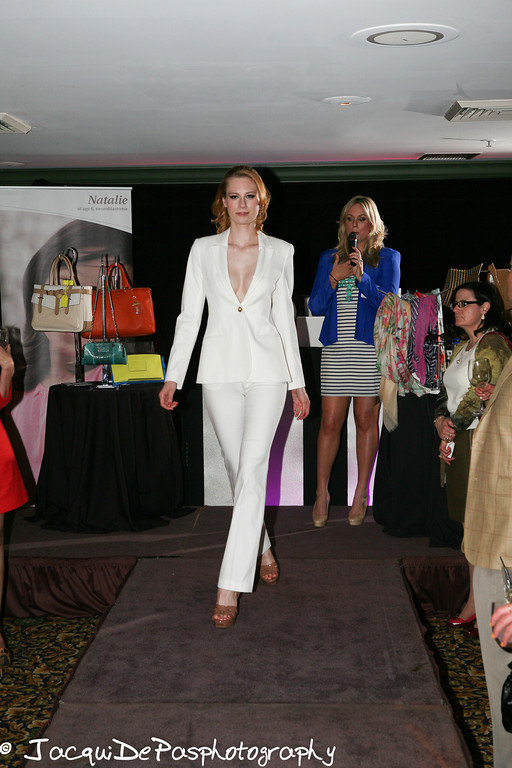 Six weeks after giving birth to baby Sophia, I couldn't think of a better way to dive back in to my fashion events than with Summer Hope - an evening of food and fashion benefiting the kids of St. Jude Children's Research Hospital. Situated inside the lobby of The Latham Hotel, the event wascompletely sold out - standing room only - with over 100 guests in attendance who enjoyed savory bites & specialty cocktails from Michel Richard's Citronelle as I presented a carefully curated runway showing of my favorite trends for summer 2012 from Saks Fifth Avenue of Tysons Galleria. In addition, Saks Fifth Avenue employees were equipped with mobile registers allowing guests to shop all the looks they saw on the runway immediately following the show!
I was honored to have Mrs. Chedid, wife of the Ambassador to Lebanon in attendance and the amazing chef himself - Monsieur Michel Richard - along with his lovely wife Laurence. Both Chedid and the Richards are longtime supporters of St. Jude and I was so grateful to have them attend. Merci! (Michel Richard below Mrs. Chedid to his left; Mrs. Richard in the center of the following photo)
Alrighty then, in case you were not able to attend I promised a recap of the show, so here we go.
COLORBLOCKING
A most adventurous trend indeed, yielding fabulous results - colorblocking is one of my favorite trends!
In the first look, I mixed the Colorblocking trend with the Color of the Season - Tangerine. The mustard yellow Theory blazer is a great piece for your summer wardrobe since it's so versatile. Seen below paired with a pair of tangerine-colored JBrand skinny jeans and a white tank by Vince, it's a perfect dressy-casual look. If you want to wear it in to the office, throw it on over a LBD (little black dress) or wear it buttoned up with a pencil skirt. As for the jeans - they're a must-have for the summer! They're fun, bright and look fabulous whether you dress them up or down.
The next look was one of my favorites. I paired a royal blue Rebecca Taylor blouse with a pair of bright turquoise Joe's Jeans - one of my all time fav color combinations that reminds me of the colors of the water in Greece. :o)
WHITE OUT
This season, White Out is applicable to more than just paper - consider applying it to your closet. It's truly a forever trend, a classic look that works every summer and whether you do white jeans with a white cable knit sweater or a white skirt and blouse, you will look oh so summer-chic.
If you don't have a fitted white dress for summer, get yours now! I chose the Alice + Olivia dress below because I love the fit of it and although you can't see it from the photo, it's stretchy and has ruching - a great way to flatter your curves! You could wear the dress by itself for a summer soiree or pair it with a white blazer and a statement necklace for the office.
Ahhh, the white pant suit - a staple piece to every woman's wardrobe. I typically turn to Theory for suiting because they create suits that flatter a woman's figure. I opted to show the sultry look you can create with this white suit by showing it sans a top or bra and kept it neutral by pairing it with a pair of nude-colored strappy heels. You could switch up the look and add a pop of color with a pair of dark pink or bright blue heels, fun!, or throw on a colorful or neutral cami underneath for an office chic look. Best part about this suit is that you'll make great use out of the pants and blazer separately as well.
One way to make use out of your white blazer is to throw it on over a dress - like the silk rose-colored faux wrap dress by Theory below.
Turn heads with this gorgeous sequin slipdress by Parker - not for the faint of heart. It's the perfect summer party dress and you should keep your accessories neutral as the dress speaks for itself - simple earrings, clutch and strappy, delicate heels.
MAXIS
Yes, this season length is in - the longer the better! So long to the daisy dukes and mini skirts, maxi dresses and skirts are on trend this summer.
This ombre tangerine-pink Parker silk maxi dress is a beautiful piece to pack for a trip to your favorite beach resort or for any special occasion this summer.
This next look mixed the Maxis trend with the Prints trend of the season. The printed Joie maxi skirt is made of a soft and lightweight cotton making it one of my go-to pieces for travel when I want to look chic but feel comfy. Paired with a button down tied up, this is a a great outfit to throw on over your bikini and head out to a pool party with friends.
I love this maxi skirt by Theory and the accordion pleating is another trend in skirts this summer and for fall/winter 2012. To avoid looking like a potato sack, be sure to keep your top fitted when you're wearing a maxi skirt, which I've done by tying up a yellow linen button down by Theory. Paired with a classic straw tan hat, it's a fabulous summer look to wear to a pool party or vacationing in St. Barths.
LADYLIKE LOOKS
Longer hemlines, lace, eyelet, and structured dresses - ladylike looks are here to stay. We saw them all over the runways last season and they'll be sticking around in to fall/winter 2012 too!
This eyelet dress by Trina Turk is a classic dress that works if you're headed to brunch w/ friends or to a baby shower - it's sweet and simple. Don't be afraid to add some color to this dress! Wear it with a coral or turquoise necklace perhaps or a bold colored clutch.
Recently, Kate Middleton exuded ladylike-ness during the Queen's Diamond Jubilee when she wore a gorgeous lace dress by Alexander McQueen. Get your lace on - for a fraction of the price - with another one of my favorites looks of the evening, this ivory lace dress by Diane von Furstenberg. Another forever trend, you'll be able to pull this dress out of your closet every year whether you're headed to a Sunday brunch or or a date night out with your hubby.
Milly is known for creating dainty, feminine, classy dresses and this bright blue structured dress below just oozes ladylike. It's great for the office, weddings, summer baptisms and more and it doesn't hurt that you can't go wrong with the color.
Nothing says ladylike like a flowy, romantic top and this one rose-colored Joie blouse is just that. Paired tucked in to white skinny jeans - another staple piece for summer (by 7 For All Mankind) - with a nude-colored skinny belt, the look becomes feminine and soft and is perfect for a casual dinner out or brunch.
BOLD COLORS
Don't keep turning to your neutrals this season, instead opt for color!
This rose pink dress by Vince is a great piece and easily transitions from day to night. Headed in to work? Wear it with a blazer. Headed out to dinner with friends? Ditch the blazers and rock it solo with a sexy pair of nude-colored heels and chandelier earrings or a statement necklace.
Don't restrict this trend to just clothing - work it in to your swimwear! I love this green one-piece by La Blanca. The gold hardware and ruched detailing makes this a very figure-flattering, sexy one-piece for all. In fact, one-pieces are IN this summer and it's great because it offers a refreshing and classy break from the go-to bikini.
If you want to stop traffic, this bright yellow dress by Torn will do just that. It's an amazing dress and fits like a glove. The ruched, angled detailing in the dress creates a slimming silhouette and the off-center slit will make your legs look long and lean.
Mix the dress w/ another trend of the season - Colorblocking - by adding this blue clutch by Marc by Marc Jacobs.
This gorgeous green DVF dress is perfect for summer - it's flowy and lightweight and looks great worn with or without accessories. Plus, the inverted V shape in the hemline will totally elongate your legs if you wear it with a pair of stunning heels. This is another great color to colorblock with - wear it with a pair of bright blue or pink heels perhaps!? The possibilities are almost endless, just remember to have fun!
This Marc by Marc Jacobs silk dress is absolutely divine. I actually saw it worn by one of the cast members on CBS's "Young & The Restless" last week!
Check out the rest of the show and trends on MyDCStyle
XOXO
~April