A Summer Camp for Italian-Minded Kids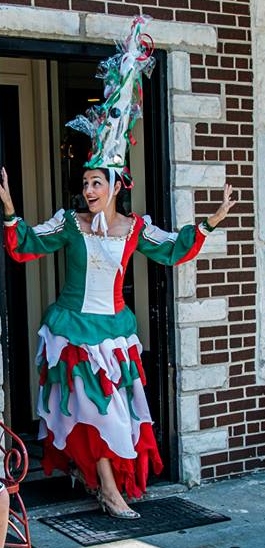 With the school year winding down, families are search for summer activities that are fun and enriching. One of the newest and most interesting offerings for the youngest DC residents this summer is the Giro Girotondo Summer Camp. Born out of the enthusiasm and commitment of a group of parents, the camp is taught exclusively in Italian and offers a well designed combination of high-level theatre classes, dance, arts and crafts, reading and culinary experiments.
The camp is run by the non-profit association MAPACI (MAmme e PApa per le Cultura Italiana, or Moms and Dads for the Italian Culture) - established about a year ago with the goal of creating a medium through which children can learn and immerse themselves in the Italian language and culture. In the past year, the association offered drawing and art classes and a chorus, and new classes, including theatre, will be offered in the fall.
"The idea is to create a fun environment for serious learning", says Marina Galvani, art curator at the World Bank, mom to Camille, 6, and co-founder of MAPACI (together with Claudio Bazzichelli, dad to Ginevra, 5). "It's a space for children to explore a new culture through some of its greatest expressions – language, music, theater, storytelling".
The camp will be held at Hardy Middle School (just in front of the Georgetown Safeway on Wisconsin Avenue), for two weeks, June 23-27 and June 30-July 3.
It welcomes children age 5 to 12, native Italian speakers as well as those just starting to learn the language. Children will be led by two professional actress, specialized in children theater instruction: Simona Rodano, known as the Italian Fairy, is an artist and instructor who lives and works in NY, and has performed in DC several times; Vivian Alvin is a DC actress and children's theatre instructor, who trained in Italy and the US. Together with the children, they will bring to life the magical musical theater workshop "Hip Hop Pinocchio," a journey celebrating, staging and rehearsing the iconic Italian character in a contemporary key. Children will work with their voices, bodies and imagination through improvisational exercises, simple scene work, lazzi and exploration of archetypes. "Classes are structured in a way that allows children to free their artistic expression, while learning to control their impulses by building a group synergy", says Marina.
Several local businesses support the program. The Italian restaurant il Canale in Georgetown and Pitango Gelato donated scholarships to allow deserving students of Hardy Middle School to participate to the camp. "Our philosophy is to bring Italy to life in every dish we serve," said Joe Farruggio, il Canale owner. "So, it just makes sense that we support activities that bring Italian culture to children."
In addition, Pitango Gelato, maker of a superb Italian gelato made with the best organic and locally sourced ingredients, will supply gelato to participants during the camp's Pitango Day.
To learn more about the camp, click here:https://www.recoup.com/offer/GirotondoSummerCamp/ItaliansinDC?preview=y