"Stuff the Bus" campaign revs up in Georgetown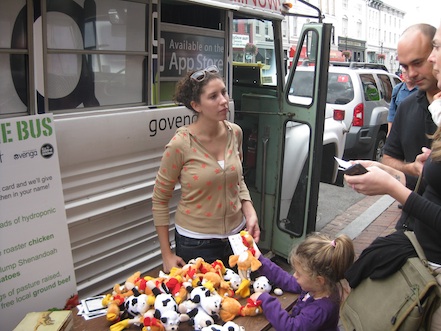 Georgetowners and others revved up their giving spirit Sunday as Venga, the free mobile app and website, collected over 300 pounds of fresh food for D.C. Central Kitchen at Clyde's in Georgetown, the second stop on Venga's "Stuff the Bus" campaign in support of the nonprofit that tackles poverty, hunger and homelessness through job training, meal distribution, and supporting local farms.
The bus heads to 7th and F Sts. NW Monday with Top Chef finalist and Graffiato owner Mike Isabella, and a visit to Chef Geoff's downtown (13th & Penn.) Wednesday with D.C. favorite Geoff Tracy.
Founded by leading D.C.-native media entrepreneur Winston Lord, Venga is spearheading the city-wide tour, which started on H Street Sept. 17 and runs through the end of the month. Venga offers real-time updates and happenings on specials, happy hours, music, and events at over 130 restaurants, bars, and nightlife venues, including Georgetown's 1789, Il Canale, Sea Catch, Clyde's, Paolo's, Nicks Riverside Grille, Tony and Joe's and The Tombs.
Venga partnered with Clyde's, led by Sally Davidson and John and Ginger Laytham, for the Georgetown stop on the tour. Patrons can still donate fresh food including canned tomatoes and beans, boxed pasta, granola bars, and canned fruit along the tour -- or write a check to boost the Central Kitchen's programs.
Isabella, newswoman Cokie Roberts and others are among the celebrities meeting people at the bus. Venga has lined up Jose Andres, Spike Mendelsohn, Washington Nationals' Ryan Zimmerman, NFL Hall of Famer Darrell Green, ABC's Jonathan Karl, NBC's Luke Russert, and FOX's Ed Henry as supporters. Venga also partnered with Monster to donate a fresh food meal for anyone who registers for Venga (getvenga.com) in September. "It's free and takes less than 30 seconds to do," said Lord.
D.C. Central Kitchen uses over 3000 lbs. of fresh food to prepare almost 5,000 meals every day in anti-hunger and job-training programs, said the Kitchen's CEO Mike Curtin.