A student's perspective in Georgetown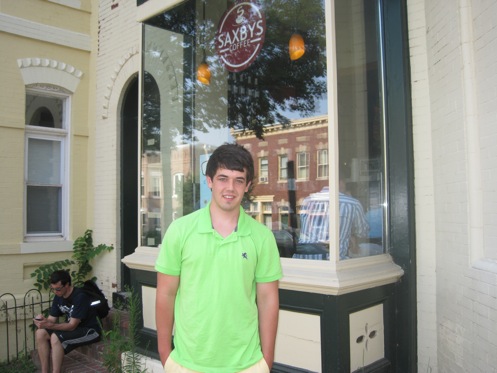 My name is Mike Meaney and I am the President of the Georgetown University Student Association (GUSA). I'm excited to be a regular columnist for The Georgetown Dish this year. In it I hope to provide the greater Georgetown community a more balanced picture of student life at Georgetown University. This idea was borne from a conversation I had with Beth Solomon, publisher of the The Georgetown Dish, at Saxby's just a few weeks ago.
Beth and I discussed some of GUSA's recent initiatives, including the "Do We Have a Deal Yet?" campaign, which urged the President and Congressional leaders to concentrate on the next generation – not just the next election – during the recent debt ceiling negotiations. The success of the campaign--which created coalition representing more than 2,000,000 students across 43 states and led to a conference call with President Obama--gave me new hope in the political efficacy of organized students.
Beth and I also talked extensively about the 2010 Georgetown University Campus Plan. I told her that for many Georgetown students the tone and general incivility of the debate has been disheartening and unproductive. Many of us understand that, like any contentious issue, the campus plan debate is highly complex and highly politicized. Yet it serves no party well for information and ideas about the campus plan to be lost in sensationalism and entrenched mindsets.
It is my view that student voice has gone largely unheard in this debate. We are portrayed, both in official testimony and in the local media, as drunken and debaucherous invaders. And while there certainly are drunken and debaucherous Georgetown students--neighbors, too--this stereotype has been allowed to grow beyond proportion or recognition.
Therefore, I take it up as my responsibility to help tell the other side of the story. Over the course of this year I hope to shed light on the ways in which the vast majority of Georgetown students are diligent, idealistic, and hardworking young people--who can often be just as disturbed by late night noise, rats, and opportunistic landlords as anyone else.
At our best, we Hoyas take pride in what allows us to help others: our Jesuit tradition, in our record-breaking Relay for Life, and in our ever-growing Alternative Spring Break program--which sends students on service trips to far flung corners of the United States and beyond. Hoyas are residents, volunteers, entrepreneurs, and consumers—we take pride in our community and are cognizant of our responsibility to help build it.
With this column, I hope to bridge the information and opinion gap that currently paralyzes reasonable thinking about the campus plan and other aspects of town-gown relations. I mean to describe some of the incredible things that Georgetown students do for the local, national, and global community, and I intend to provide my own commentary regarding some of the challenges associated with student life at Georgetown, and to acknowledge how we students can fall short.
Essentially, I hope to be interesting: to tell you things you hadn't heard about, and to get to know some people you perhaps haven't met yet. It's my wish that, by bringing these stories to the neighborhood, we can ignite a conversation about what Georgetown is and what it should be.
I invite you to follow me on Twitter at @mj_meaney, and email me at gusapresident@georgetown.edu if you have any questions, comments or ideas.